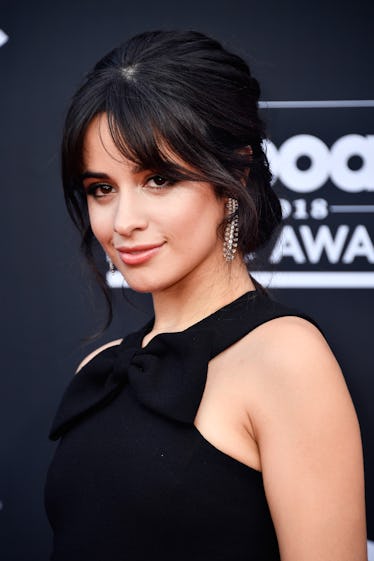 Camila Cabello's Look At The Billboard Music Awards Was Absolutely Fringe-tastic
Frazer Harrison/Getty Images Entertainment/Getty Images
Sartorially speaking, some stars bring the strange, eyebrow-raising drama to red carpet events (which, don't get me wrong, I love), while others choose to bring the drop dead gorgeous glam. Camila Cabello's 2018 Billboard Music Awards look falls into the latter category, which, if you look at the singer's track record, is no surprise. This year alone, she's stunned at numerous award shows in ground-grazing designer gowns that will make your jaw drop, so it's only fitting she'd continue the best-dressed reputation she's solidly building for herself.
Tonight, Cabello is nominated for a whopping four awards: Chart Achievement, Female Artist, New Artist, and Collaboration. For such a momentous night, it's only right she has an equally memorable look. And this year, the singer took us all back a few decades with an absolutely fringe-tastic, '20s-inspired look. Cabello flapped right onto the carpet in a black and white Givenchy dress with so much movement. The bodice of her dress was solid black with a large bow at the neckline and transformed into the skirt via a sharp zig-zag. The bottom half of her look featured a fun, bright-white fringe, reminiscent of a 1920s flapper dress.
Paired with white heels, silver earrings and rings, and an up 'do with a few wisps of hair falling down the sides of her face, and Camila Cabello is officially the cutest person I've ever seen on a red carpet. The singer kept her beauty look totally classic, perfectly complementing her old-school look overall. She wore a sultry smoky eye along with a soft contour and a shiny, soft pink lip, making her look like an old Hollywood movie star.
Her look for the 2018 Grammy Awards was equally as memorable as the one above. For that look, she wore a red hot, strapless dress by Vivienne Westwood that featured a dipped neckline and unique gathering and pleating details, turning her into the life-size version of the dancing woman emoji we all know and love so well. She accessorized the gown with diamond earrings and one of Westwood's signature orb clutches, and if I'm honest, she looked equal parts old Hollywood and modern icon yet again. Do I sense a pattern here?
That same night, Cabello took to the stage twice, once to introduce U2's performance (she took a moment during her speech to support DREAMers), and again to sing alongside Kesha during the musician's performance of "Praying." For both appearances, she wore an all-white look featuring a top that was cropped in the front and cascaded down nearly to the floor in the back, as well as a pair of white pants. It was sleek and chic as all get out.
For the 2018 Brit Awards, the artist went in a decidedly more ethereal direction, opting for an ice blue Ralph & Russo gown that looked so flowy and cascaded so beautifully that she could have been wearing literal waterfalls. Featuring a sheer skirt, uncountable ruffles, and a criss-crossed neckline, it was daring and lovely all at once. Seriously, she looked like a goddess sent down from heaven.
Tonight, Cabello has brought the same high-caliber fashion game she's been bringing all year. And it makes sense, considering she's got a pretty high-caliber year going for her in terms of gigs. While she's already nominated for four Billboard awards tonight, she's also currently opening for Taylor Swift on her Reputation tour. I hope to see Cabello at many, many more award shows this year, just so I can gawk at even more of her super glamorous looks. In the meantime, I'll just be singing "Havana, oh na na" all night long.