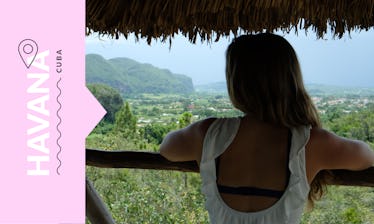 Wander or Bust: Havana, Cuba Is A Gorgeous Place To Put Your Phone Down & Unplug
Wander or Bust is an Elite Daily travel series that follows young women all over the globe to record their journeys as they experience the thrill of the far-flung and unknown.
They'll track their budgets, where they stay, where they eat and drink, and where they took that amazing Instagram that got them ~maximum exposure.~ The internet is full of travel advice, but none from women just like you. Read on for the tips no one else gives you, and when in doubt, get on the plane.
Here's Stacey Leasca's Wander Or Bust guide to Havana, Cuba.
My Name: Stacey Leasca
What I Do: Freelance Writer, USC Adjunct Professor
Where I Live: Los Angeles, California, USA
Where I Went: Havana, Cuba
How Long I Stayed: 5 days, 4 nights
My Spending Style: Extravagant. I'd rather have a good time than be on a budget. But also, everything in Havana is incredibly cheap.
Where I Got My Recommendations:
My trip to Havana was part of a press trip with the fine folks at Adobe so they planned every detail for me. However, if you're looking for recommendations on what to do in Cuba I can't recommend reading The Cuba Unknown more.
Exchange Rate At Time Of Travel: $1 USD = $1 CUP
What That Looks Like IRL: $50 USD = $50 CUP
The exchange rate in Cuba is incredibly confusing because they have two systems of currency: the Cuban Convertible Peso and the Cuban Peso. Always make sure to exchange your money into Cuban Convertible Pesos as they are worth more. Additionally, exchange your money back before you leave. You cannot exchange that money for any another other foreign currency.
Preferred Payment Method: Only cash. American credit cards and debit cards don't work in Cuba so make sure to bring enough money for your entire trip. (A good benchmark is $100 per day of your travels.)
Phone Bill: Nothing! Because it doesn't work in Cuba. No internet means no data.
Mode of Transport: Airplane
Price: $500
Extra Costs: Never extra baggage, I absolutely refuse to ever check a bag when traveling, no matter how long I'm gone for. Taxis are about $20 for a 10-minute ride around anywhere in Havana. It seems expensive, but you get to ride around in a cool 1950s car so it's worth it.
Transport Total: $540
Accommodation: Hotel National
Location: About as central as it gets.
Price: $150-$250/night
Extra Costs: The only added cost is if you'd like to access their internet. Hotel Nacional is one of the few places in Cuba where people can access the web. However, buyer beware as the internet only lasts for a few minutes at a time and there's a good chance the government of Cuba is tracking your every online move.
Would I Recommend It To Someone Else:
Yes, for sure. Hotel Nacional is hands down the nicest hotel in Havana, but travelers may also want to consider booking through Airbnb instead. That way they can stay with a local and get a true taste of Cuban life.
Accommodation Total: $750
Breakfast-Lunch Cost: $30/day
Dinner Cost: $15/day
Average Total Cost: $45/day
Tip Situation: Yes, I always tipped, but only because Cubans live on very little money provided to them by the government (it's still a communist country) so tips for waitstaff go a long way. It doesn't have to be a lot, just $1-$2.
Food Situation:
To be honest, I thought the food wasn't exactly amazing in Havana. It's OK, but nothing really to write home about. However, if you take a day trip about two hours out of the city to a town call Viñales, you'll be pleasantly surprised by a farm-to-table experience you won't soon forget.
Viñales is the center of Cuba's tobacco business and is where they grow, dry, and produce most of their cigars. There, you can take tours of the farms, see cigar makers in action, and eat at Finca Agroecologica El Paraiso. At that farm visitors can walk the grounds with the farmers, see them pick your lunch, and cook up amazing dishes including fresh salads, breads, soups, and meats raised right on the grounds. It's well-worth the day trip.
Favorite Restaurant: Finca Agroecológica El Paraiso
Location: Carretera al Cementerio KM 1 1/2, Viñales
Price: $30
Honorable Mention: Havana Club
Food Total: $300
Nightlife Situation:
If you go to Havana and don't spend time out in the city at night, you're truly missing out. Cuba is home to a vibrant music scene. There, you can hop from bar-to-bar and enjoy live music and dance the night away.
What People Wear Out:
It's Cuba, get dressed up in your brightest outfit, give it a little 1960s throwback flair and have fun with it.
Average Cost Of A Pint: About $5, if that.
Extra Cost To Know About: Taxis. This will be your biggest expense.
Last Call: ~12 a.m.
Average Total Cost Of A Night Out: $20
Cheapest Bar I'd Actually Go Back To:
Staying right at the Hotel Nacional, sitting outside on the patio, listening to live music, and watching the sun both go down and come up the next day with a few mojitos along the way.
Going Out Total: $100
What I Spent A Lot On That Was Totally Worth It:
I didn't really spend much money on any one thing, as everything was cheap, but I did visit the Morro Castle — a fortress that protects the entrance of Havana Bay. It was only a few dollars to get in and completely worth it.
What I Spent A Lot On That Was Totally Not Worth It: Nothing. Everything is so unique in Cuba, it all seemed worth it!
What I Spent Little Or No Money On That Was Awesome: The Malécon.
That's Havana's seawall that runs along the ocean. It's where the locals hang out all day and all night. You can walk along it, speak with locals, or just check out the ocean.
I highly recommend getting up for sunrise, watching the fisherman catch their daily haul, and chatting with locals over a good cup of Cuban coffee.
Favorite Thing I Did, Regardless Of Cost:
Visiting the fortress. There, we watched the sunset and the cannon ceremony, which is where the locals set off a cannon into the sea each and every night.
Hidden Gem I Found:
Unfortunately, there's little hidden about Havana or Cuba anymore, but visiting Viñales and the Hemingway house was pretty legit.
The Photo I Took That Got The Most Attention: This photo that was taken by Taylor Rees, a photographer for National Geographic and other publications. One huge benefit of taking trips with fellow journalists is sometimes they are nice enough to take your photo and make you feel like a badass.
Excursions/Extras Total: $30
General Shopping: $10
Souvenirs: $40
The only shopping items I bought in Cuba were a set of $2 espresso cups and two paintings for about $20 a piece. They are some of my favorite things I've ever purchased while traveling.
Souvenirs/Shopping Total: $50
Best Havana Hack:
Walk everywhere. Driving is cool, but you also miss so much. Even if it seems far, you can usually find something beautiful, cute, or amazing along the way.
Advice For Anyone Traveling Alone:
Make friends. No one has their head in their phones, so it's actually a relief. Havana is fairly safe, but it's always good to research which spots you should avoid.
Total Trip Cost: $1,810
Worth It? Travel — even if you end up not liking your destination — is always worth it. But, yes, Havana was gorgeous.