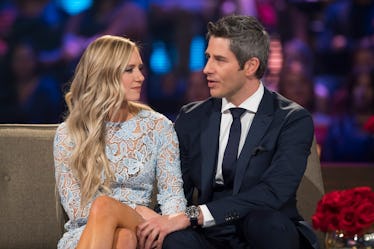 Here's Everything We Know About When 'The Bachelor' Will Premiere
ABC/Paul Hebert
The Bachelor franchise has been a dominating force in the reality TV world since it premiered in 2002 and when it or one of its spinoffs aren't airing, it just feels like something's missing in our lives. Summertime's Bachelor in Paradise is currently underway and once the sun sets on that romantic Mexican adventure, it could be a while until fans get to tune into the next Bachelor-related series. When does The Bachelor 2019 premiere? There's been no official announcement on a debut date and Bachelor Nation is patiently awaiting word on its return.
Season 22 of The Bachelor kicked off on the first day of January in 2018 to coincide with the new year and make use of the cringeworthy promotion phrase "Janu-Arie," given the show's leading man, Arie Luyendyk Jr. ABC didn't confirm the exact premiere date until November, which doesn't bode well for a sooner-than-later announcement about Season 23's start. The Bachelor is synonymous with Mondays, so it would be surprising if the show ended up living on any other night for its upcoming episodes. Jan. 7 or Jan. 14 seem like safe bets for the premiere — they're the first Mondays of 2019.
The Bachelor was renewed in March for its 23rd season to the surprise of no one. I think we'll be hearing Chris Harrison tease "the most dramatic rose ceremony ever" for decades to come. Can't wait for Robot Bachelor in 2045!
ABC Senior Vice President of alternative series, Rob Mills, doesn't see an end in sight for The Bachelor franchise considering its community of loyal watchers have become so invested over the years. He told Variety in 2017:
It's this bonding thing. It's very similar to any other property with a big fandom like Star Wars or Star Trek, and those things never die. They live on in different forms and iterations. The Bachelor is very much like that. I don't think people would know what to do without some version of The Bachelor on because there's just this good feeling you get from it. I can't imagine a world without The Bachelor.
The Bachelor doesn't have a presence at Comic-Con and I've never seen anyone do Chris Harrison cosplay (please tell me that's out there though), but its fandom is clearly going strong. Plus, ABC continues to shake things up with fresh versions. February's Olympic-themed Bachelor Winter Games was a surprise addition to the Bachelor universe that added an athletic competition element to keep things interesting.
Since Paradise is slated to conclude in September, the knowledge of a Bachelor premiere date would be a nice way to hold audiences over. But an even better piece of info would be who the next Bachelor actually is. Arie's casting was revealed on Good Morning America last year on Sept. 7. According to Chris Harrison, news regarding the show's next leading man is on the horizon
"Very soon! It has to be; it's only a matter of weeks because we go into production," the host told on ET when asked about the casting announcement for Season 23.
Bachelor in Paradise airs Monday and Tuesday nights on ABC.