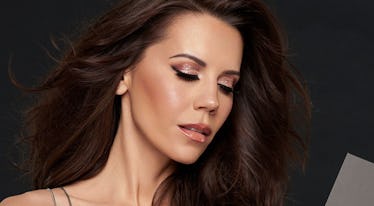 Here Are All The Details About Tati Beauty's Second Product
When a new brand's debut product sells out and gets a ton of positive reviews, the pressure is on to release a second product that lives up to the original hype. Luckily, the case of when Tati Beauty's second product will launch has been solved, much to fans' delight. YouTuber Tati Westbrook already owned successful supplement brand Halo Beauty when she decided to try her hand at color cosmetics, and after a massively successful first palette launch, her second product, a makeup applicator pouf called the "Blendiful," received similar praise.
Tati Westbrook revealed the name of her second product, which was indeed Blendiful, in an Instagram teaser post on the Tati Beauty account on Wednesday, Jan. 8, 2020. "Blendiful," is a set of two products — "one Blendiful and one mini Blendiful," or one larger fabric-cover makeup applicator and a smaller one for detailed application. Westbrook later revealed the product in full in a YouTube video on Thursday, Jan. 9, before the product officially dropped on Friday, Jan. 10 on the Tati Beauty website.
Before Blendiful's launch in early 2020, many fans believed Blendiful would feature beauty sponges, and a trademark for "BLENDIFUL" filed by Tati Cosmetics in July 2019 supported this theory. In another of Westbrook's YouTube videos, "The VERY BEST MAKEUP of 2019," she hyped up her Textured Neutrals Palette (duh) amongst other faves, and hints at what else fans can expect. "What's around the corner is gonna blow your mind," she told her viewers, noting that while there are more palettes in the works, the next drop won't be one of them.
With a whopping 9.6 MILLION subscribers on YouTube, Westbrook never needed to launch her own brand, so when she announced Tati Beauty and the Textured Neutrals Vol. 1 Eyeshadow Palette back in October 2019, fans knew it had to be something special. "I know what I'm creating is top notch. I have such a clear vision for what I'm doing," Westbrook said on her Instagram Stories just before launch day. And she wasn't wrong — fans went wild for Tati Beauty, and the palette quickly sold out.
Since the drop of the Textured Neutrals palette and the Blendiful, no new Tati Beauty products have been announced or even teased. In fact, Westbrook has completely dropped off YouTube. Her last video, "BREAKING MY SILENCE," was uploaded on June 30, 2020. In it, she addressed a whole host of drama that had unfolded between her, James Charles, Jeffree Star, and Shane Dawson. She largely read from a script at the advice of her legal team.
I have to wonder how much longer Westbrook's YouTube hiatus — and Tati Beauty's overall hiatus — will last. Unfortunately, there are no other deets as of now, so be sure to follow Tati Beauty on Instagram and keep an eye on Westbrook's YouTube channel for any updates.
This article was originally published on