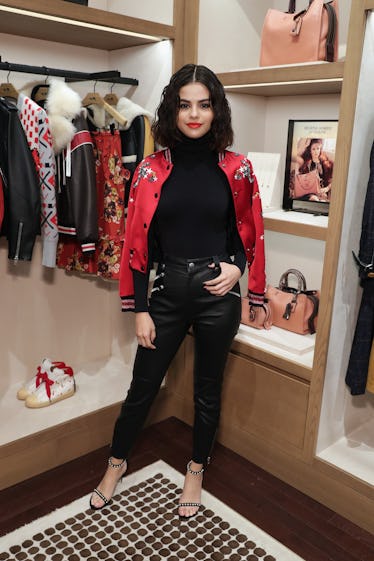 Selena Gomez Is Dropping An Entire Line Of Clothing & Merch, So Take My Money Now
Cindy Ord/Getty Images Entertainment/Getty Images
Our favorite Disney Channel star-turned-bonafide icon wowed us all with a stellar collaborative collection of handbags and accessories last fall. Now, she's just announced another exciting release with the same brand, but it offers so much more than leather carryalls. When does Coach x Selena Gomez drop? The collection — which will expand to include a range of outerwear and ready-to-wear, along with handbags, small leather goods, and other accessories — cannot come soon enough.
There's no question that Selena Gomez has some of the best style in the game. What makes it so good, in my opinion, is its classic and universal appeal. While she certainly elevates it with statement pieces or genius styling tricks, it can, for the most part, serve as achievable inspiration for the masses — it's not inaccessible or filled with impossible-to-pull-off designer pieces. Well-made denim, killer sunnies, versatile staple items, elevated handbags, and feminine sundresses seem to compose much of Gomez's wardrobe, which are things I have been increasingly investing in the older and financially smarter I get.
All of this is to say that Gomez knows a thing or two about timeless yet notable style — a fact that was further cemented with the release of her first collaborative collection with Coach. It dropped in fall of 2017 and offered a selection of handbags and small leather goods, including a keychain, wallet, and coin purse. Red, ivory, and black comprised its color palette, and each piece boasted an allure of chic simplicity. It was a killer celebrity collaboration (many can err on the side of cheap, cheesy, or just plain ugly) in the eyes of both fans and editors, alike. So the fact that she's expanding her design skills into an entire lifestyle collection is buzzy news.
According to a press release from Coach, the collection "reflects Ms. Gomez' own personal style, and each piece is imbued with unique touches that speak to Ms. Gomez' unapologetically confident and powerful feminine spirit." Though no official imagery of the collection — which is set to be released this fall — has been released yet, Gomez did take to her personal Instagram account to share a snap of what looks to be the lace-trimmed neckline of a blush pink shirt or dress. "Fam, my second collection for @coach is going to include clothes! So grateful I got to work on this with @stuartvevers. Can't wait to show you this fall. #CoachxSelena #CoachNY," she captioned the photo. The clothing item looks dainty and delicate, and I am itching to see it in full. (Anything that makes me feel like a whimsical woodland creature is something I went to own.)
The upcoming collection will be designed in tandem with Coach's creative director, Stuart Vevers, who has reinvigorated the brand with a youthful and relevant air since joining it in 2013. "I always look forward to designing with Selena because she has a strong point of view," said Vevers in the press release. "We wanted to bring cool new ideas to the table and I loved getting her take on clothes as much as accessories this time around." Gomez was named a Coach brand ambassador back in 2016, so she's worked with Vevers for a few years now. The designer has also created custom garments for many of Gomez's high-profile appearances (the 2017 Met Gala and 2017 American Music Awards, to name a few), so he understands her aesthetic.
"I am so excited to be working with Coach again," said Gomez. "Getting to create my own collection with Stuart has been such a fun process, and I can't wait for everyone to see what we have been working on over the past several months."
Neither can we, Selena.