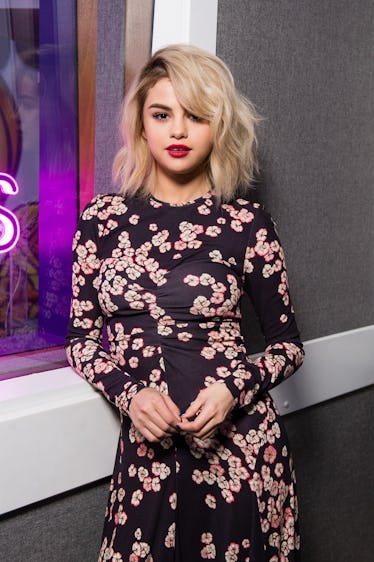 Selena Gomez Just Debuted A Totally Different Hairstyle & No One Saw This Coming
Jeff Spicer/Getty Images Entertainment/Getty Images
Selena Gomez has been hard to keep up with lately, as she jet-sets around the world with on-again boyfriend Justin Bieber. The star settled down in New York City (for at least a day) on Feb. 13 to attend Coach's fashion week show, and shocked fans with a totally new hairstyle no one saw coming: Bangs. The photos of Selena Gomez's bangs are just as hot as the brand's new clothes.
Gomez has a close partnership with Coach; she curates a selection of her favorite Coach accessories on the company's website, and stars in multiple ad campaigns for the brand. The Wolves singer has attended all of Coach's fashion shows for the past few years, sitting in the coveted front row of course, where she low-key models the clothing whilst also watching the runway models do the same. Even more, she chooses to sport the brand to awards shows (she wore a custom Coach dress to the 2017 American Music Awards), and when she's off-duty (she wore a Coach fur jacket while out on the town in Los Angeles earlier in February).
Gomez and Coach go hand in hand, epitomizing the celebrity and fashion brand relationship of our time. So it was fitting that Gomez chose Coach's New York Fashion Week show — which has become something of a spectacle — to debut her new hairstyle.
Goodbye to Gomez's blonde bob and hello long brown strands and bangs!
The long hairstyle and its feathery bangs are giving off major prairie-chic vibes, but that's been Coach's vibe as of late too, so it's a match made in fashion and beauty heaven. The rest of Gomez's beauty look was much more subtle compared to her hair — she wore black eyeliner on her upper lids and kept her lower lashes bare, a pale orangey blush sat atop her cheeks, and a nude/pink lipstick graced her lips.
Gomez's outfit matched her new western-inspired hippie hairstyle. She wore full Coach because duh, including a moto-style leather jacket, peasant blouse-inspired dress, modern lace-up cowboy boots, and the Coach Parker Purse ($495; Coach).
Gomez hammed it up for the cameras at the fashion show — that elaborate forest scene is indeed a man-made set built at a studio in New York City.
Gomez posted a backstage video and admitted that her long locks are a "weave." The bangs likely belong to Selena herself though, because she showed off her new fringe earlier in February, plus she toyed with the style off and on for years. Gomez goofs off with actor Tommy Dorfman of 13 Reasons Why and Dorfmans mentions how much he likes her current "hair moment" that's "back to her roots."
Gomez showed off her bangs via her personal Instagram story while at the fashion show. She also explained her significant social media absence to her fans,
Know that a lack of action on social media is not a lack of my love. I'm working on a lot of stuff and I will love on you guys so soon, I promise. Also, last thing, I might get in trouble for saying this but I'm doing some really, really cool stuff with Coach. It's coming! See, this is why I can't be on social media, I just say everything!
Gomez wants her Selenators to know that her breaks from the spotlight doesn't mean she's forgotten about them, and warns everyone to be on the lookout for new projects she's working on with Coach.
Fans appreciated Gomez's return to Instagram and were offering lots of praise for her new hair. "Omg I love selena Gomez's bangs tho," wrote one user.
"SELENAAA W BANGS DAMN IM ON THE FLOOR," tweeted another Selenator.
Straight masterpiece.
iHeartRadio crowned Gomez a queen.
Fans didn't exactly disagree with the queen title.
Princess or queen, Gomez is some version of royalty here.