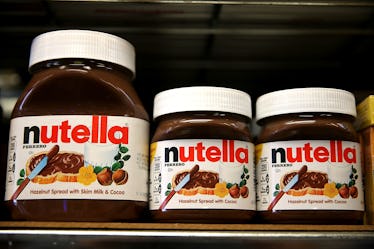 NYC's Highly-Anticipated Nutella Cafe Is Opening This Month
Justin Sullivan/Getty Images News/Getty Images
As a sincerely devoted chocolate fan, it should come as no surprise that I absolutely adore Nutella. Whether it's serving as a dip to my strawberries, a spread to my toast, or if it's simply baked into my famous homemade Nutella cookies, I always keep a jar or two at hand, in my kitchen cabinet. And if you (somehow) love the ooey gooey choco-hazelnut spread as much as I do, you're probably wondering when NYC's Nutella Cafe opens. If you, too, are living in the Big Apple, you'll be happy to hear that it's coming very soon.
New York City is finally opening its own Nutella Cafe (at long last), and lucky for me, it's going to offer a variety of super exclusive dishes, which incorporate the delectable chocolate hazelnut spread. If you're at all familiar with the greatest city on earth, the Nutella Cafe will be opening right at 13th Street and University Place right by Union Square, and according to BuzzFeed, you'll officially be able to go as of Wednesday, Nov. 14, 2018. Elite Daily reached out to Ferrero USA to confirm the opening date, but did not hear back at the time of publication. The Nutella Cafe is apparently opening in just a few short weeks, though. TBH, my stomach and my wallet are quite scared. Regardless, I'm oh-so ready.
If you're not already completely convinced that this is the greatest restaurant idea known to man (and woman)-kind, Nutella Cafe's menu will definitely convince you otherwise. According to BuzzFeed, a few of the items on Nutella Cafe's menu include a brioche Nutella gelato sandwich, a Pound Cake Panzanella (essentially a bowl of chocolate-covered fruit), and — last but not least — a toasted baguette, drizzled in Nutella. There's absolutely no doubt in my mind that my Nutella Cafe excursion will ultimately end in a massive food coma, and as you would imagine, I'm simultaneously stoked and very, very scared.
Apparently, this isn't the first Nutella Cafe to open in the United States. Back in May 2017, the first one opened in Chicago, and you can check it out in the Windy City at 189 N. Michigan Ave. Between the Nutella-soaked crepes, croissants, and French Toast, they offer a ton of really amazing dishes, sprinkled in chocolate, hazelnuts, and — of course — magic.
If you aren't currently situated in the Midwest or on the East Coast, you can still get a taste of some cutesy themed cafes. In fact, a Hello Kitty-themed cafe recently opened up in Irvine, California, back in September 2018. If you haven't already gone, it looks so, so magical. Between super Kawaii pastries, a super cute aesthetic, and as well as an adorable speakeasy, it's definitely a sweet destination worth trekking for.
In my personal opinion, anything that even remotely involves Nutella is a total win in my book. And once you check out the menu at the Nutella Cafe, each and every dish looks positively unreal. Its opening date is less than two short weeks away, so get ready to explore Nutella heaven. Trust me when I say it's going to blow your freakin' mind.