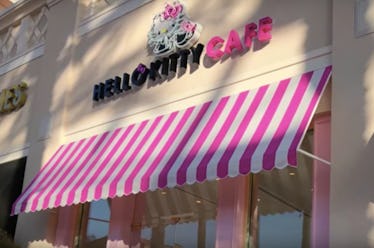 Once You Visit This Hello Kitty Cafe, Your Instagram Will Never Be The Same
If you ever watch The Travel Channel, or if you happen to follow a million food Instagram accounts, you're probably well-aware of the fact that Southern California is loaded with culinary gems. But aside from to-die-for taco joints and earthy-crunchy juice bars, there's a new gem in town, and it's incredibly kawaii. If you haven't already heard about the Hello Kitty Grand Cafe in Irvine, California, it's about to be your new favorite restaurant. TBH, aside from the fact that it's highly Instagrammable, the food, drinks, and treats look absolutely marvelous.
The Hello Kitty Grand Cafe opened up just outside of Los Angeles in Irvine, California, in the Irvine Spectrum Center, per a press release. It officially opened its doors on Friday, Sept. 14, and the cafe serves sweet treats such as mini hot donuts, delectable macarons, and tiny Sanrio character cakes. Friends and family: Please note that this is where I want to go for my birthday, like... every year for the next 10 years.
Inside the cafe, past the lattes and treats, there's a secret speakeasy-type gem called the Bow Room. Per the release, this perfectly pink bar is reservation-only, and you can enjoy afternoon tea as well as evening cocktails. If you do end up deciding to indulge on a full afternoon tea, it costs $55 a person, and it comes with an array of snacks such as cakes, fruit, cucumber sandwiches, and cookies. Yum.
Per Travel + Leisure, The Bow Room's cocktails have adorably festive names, like the Pink Bow, which is made with gin, raspberry, lemon, liquor 43, and aquafaba. Or, there's the 1974, which blends your choice of a Negroni or an old fashioned with a Hello Kitty ice cube. The year 1974, for all who don't already know, is Hello Kitty's birth year. If you're more about the vino, you can select sips from the curated wine list, which includes Hello Kitty Sparkling Rosé, per the release.
Craig Takiguchi, COO of Sanrio, Inc., explained how unique this cafe is in the press release. Takiguchi said,
As the first brick-and-mortar cafe concept of its kind in the U.S., Hello Kitty Grand Cafe combines our signature fast-causal setting with an all-new immersive dining experience through our Afternoon Tea Service for guests of all ages and Cocktail Service that caters to our adult fans. We look forward to debuting the latest evolution of Hello Kitty Cafe as a new destination in Southern California.
Cocktails are served after 5 p.m. on Wednesday through Sunday, and this should go without saying, but only adults aged 21 and older will be served. Tea service is 11 a.m. until 4 p.m., Wednesday through Friday from and from 10 a.m. until 4 p.m. on Saturday and Sunday.
As you'd probable imagine, the interior throughout the entire cafe is entirely decked out in the classic Hello Kitty white, gold, and pink colors, according to Travel + Leisure. There's also an impressive amount of artwork along the walls, featuring each of the Sanrio characters. I can guarantee that each and every one of your IG followers will envy your 'Gram aesthetic.
As a self-proclaimed foodie, there are loads of places I'd like to eat in Souther California. I mean, there is a Flamin' Hot Cheetos pop-up restaurant in Hollywood from Sept. 18 through Sept. 20. However, at this point, Irvine's Hello Kitty Grand Cafe might honestly be at the top of my list. Not only do the treats look phenomenal, but the afternoon tea looks straight-up adorable, and those themed cocktails are a must. The aesthetic is definitely going to up your Instagram game an impressive amount, and TBH, I already booked a reservation in The Bow Room. Guess I'll have to buy those plane tickets.