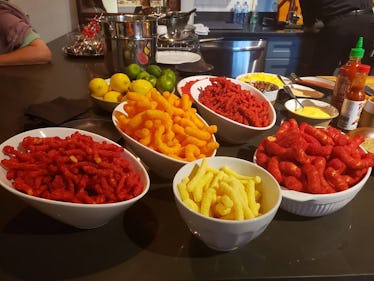 This Flamin' Hot Cheetos Pop-Up Restaurant Has The Spicy Menu Of Your Dreams
Lizzy Rosenberg
Everyone has their go-to type of food. Some might prefer tacos, while others would rather go for noodles. I, however, am a die-hard fan of Flamin' Hot Cheetos. Now, you're probably thinking to yourself, "Hmm... well that isn't exactly a specific cuisine." Well, at this Flamin' Hot Cheetos pop-up restaurant in Los Angeles, the spicy, finger-lickin'-good snack food is the foundation of every dish.
Renowned Los Angeles chef Roy Choi is opening a Flamin' Hot Cheetos-themed pop-up restaurant, known as The Flamin' Hot Spot. The restaurant will be open in Hollywood Hills, California from Sept. 18 through Sept. 20, according to a press release, and the menu is actually to die for, blending SoCal vibes with the depth and fiery goodness that is Flamin' Hot Cheetos.
I got to preview the menu on Thursday, Sept. 13, at the Flamin' Hot Spot's New York City press preview, and let me tell you, it's out of this world. Trust me: hen you hear about what I was able to taste, you might actually start drooling.
The appetizers on Flamin' Hot Spot's menu include Flamin' Hot Elotes, Flamin' Hot Chipotle Ranch Wings, and Sweet n' Spicy Chili Meatballs. Each dish was a total hit, but my favorite was definitely the Flamin' Hot Elotes. The corn was presented on the cob (aka how corn should always be eaten), and like classic elote, it was covered in cojita and mayo. However, it was entirely sprinkled in Flamin' Hot Cheetos and garnished with fresh cilantro. It sounds bizarre, but it was truly one of the greatest things I've eaten in recent memory. I can guarantee that there was Flamin' Hot Cheeto dust all over my face when I finished, but I promise it was 100 percent worth it.
In terms of main courses, the restaurant will serve an XXXTRA Flamin' Hot Rice Bowl, a Flamin' Hot Cheetos Burrito, Flamin' Hot Fries, and a Five-Alarm Cheetos Steak. My personal favorite was the Flamin' Hot Fries, which consisted of Flamin' Cheese Puffs covered in cheese, spicy mayo, and cilantro. Reminiscent of what many refer to as Disco Fries, they are totally addicting. The Flamin' Hot Fries are definitely a must.
Since a dessert stomach is completely necessary, the sweet treats include a Cheetos Sweetos Hot Cake, Chester's Cheetos Churros, and a "Hot" Chocolate Shake. I was a huge fan of the shake, which is rich, creamy, and gives off somewhat of a "Mexican hot chocolate vibe" by combining spiciness with chocolatey goodness. I, personally, was highly impressed by Choi's ability to seamlessly blend Cheetos into a dessert.
The only downside of this glorious establishment is that you can only get a table by reserving it on the Flamin' Hot Spot website, and unfortunately, reservations are entirely booked as of right now. However, I was able to speak with Head Chef Roy Choi at the restaurant's press preview in New York City, and he tells Elite Daily he wants to make this restaurant experience entirely accessible, hoping to meet the demands of so many spice-lovers out there in Los Angeles.
"I think there's definitely a demand," Choi says. "I mean, it sold out in minutes. There's thousands on the waitlist, and, I mean, my perspective is let's keep the momentum going. If the interest is there, and if people are excited about it, let's not do it to exclude people; let's keep the excitement going. So, I want to figure out ways to beat that demand."
If you do get a chance to go, each menu item is relatively affordable, with the menu ranging from $11 to $32. Choi attributes this to the fact that he wanted to have fun with this opportunity, and he wants it to be widely accessible to all foodies, no matter their financial situation.
"The style of food is kind of young, late-night-college, fun-when-you-got-nothing-to-do. Its affordable when you're on a budget, you know?" Choi says. "...Adults wanna act like they were never young, and I never try to forget what it's like to be there, so from there, is where I get my cooking style from."
The Flamin' Hot Spot, according to the press release, is located at 1835 North Cahuenga Boulevard in Los Angeles during its three-day run in September. If you want additional details, you can check out the restaurant's website, follow @Cheetos on Instagram and Roy Choi at @RidingShotGunLA.
Who knew that Cheetos could be incorporated into every meal? This Flamin' Hot Cheetos restaurant is literally breaking barriers, and for that, I am eternally grateful. After all of this amazing food, I'm feelin' "dangerously cheesy," and TBH, I'm not mad about it.