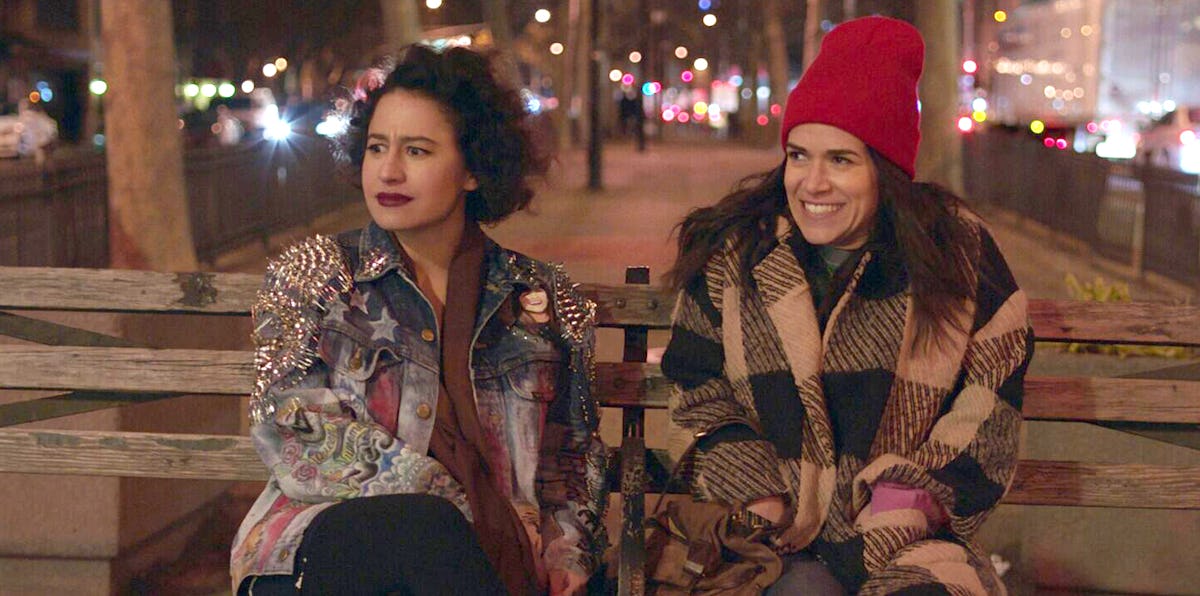 'Broad City' Season 4 Is Ending, But Season 5 Will Make You Scream "YAS"
Comedy Central
Season 4 of Broad City has seen Abbi and Ilana tripping on mushrooms, exploring an old folks home in Florida, and working out with Shania Twain, but sadly, it is about to come to an end. The Comedy Central show's season finale airs on Wednesday, Dec. 6, but never fear, because it has already been picked up for a fifth season. So when can you expect Season 5 of Broad City to come into your life? Well, it will probably be a bit of a wait.
After all of the crazy adventures that Abbi and Ilana have gone on this season, the Season 4 finale of Broad City (titled "Friendiversary") sounds like it will work in conjunction with the season premiere to bookend Season 4 with a more concrete and illuminating look at the show's central friendship. Fans will recall that the season opened with a touching throwback to Abbi and Ilana first meeting each other in 2011, and from the title of the season finale, it sounds like this run of episodes will end with Abbi and Ilana reminiscing on that day they first met. The only upsetting part is that after "Friendiversary" airs on Wednesday night, we won't be getting any new episode of Broad City until next year.
But rest assured that our girls are coming back better than ever in 2018. Comedy Central hasn't given any indication that Broad City is going anywhere any time soon — before the third season even aired back at the start of 2016, the network renewed the show for an additional two seasons, meaning Broad City Season 5 is definitely coming. The only question we have now is when will it finally get here. Usually, this stuff is relatively easy to figure out by looking at the dates past season have premiered, but true to form, Broad City doesn't tend to follow the norm. It's first three seasons all premiered at the beginning of the year in January or February, but Season 4 flipped the script by premiering at the end of 2017 in September, taking a particularly length year-and-a-half hiatus after Season 3.
The good news is that I don't think Broad City fans will have to wait more than a year again for a new season. That extra-long break between seasons last year can likely be attributed to the show's core creative team (Lucia Aniello and Paul W. Downs) and one of its stars (Ilana Glazer) working on their major movie Rough Night, which filmed throughout the later half of 2016 and premiered this summer. Since there hasn't been news of another big movie coming from the Broad City team right now, fans can probably expect the fifth season to take close to the standard one-year production time until it premieres.
Since Season 4 premiered on Sept. 13 of this year and there doesn't seem to be any major side projects coming up for the Broad City team, my best guess right now would be that Season 5 may land sometime in September of 2018. Until then, be sure to soak in the Season 4 finale that will air this Wednesday, and rewatch your favorite episodes of the last season to help tide you over.
As for what we can expect to happen in Season 5, that's also anyone's guess, although I do feel like we're getting some hints at character growth this season. The two main storylines have been Ilana finally finding a job that works for her and making bank as a waitress (even though she might be out of that job after that bedbugs episode), and Abbi possibly starting up a new job in security at Anthropologie. We'll have to wait and see if and how those careers carry over for them.