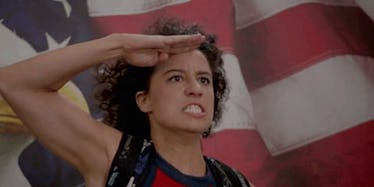 'Broad City' Season 4 Gets Political In The Most Abbi And Ilana Way Ever
Comedy Central
Season 4 of Comedy Central's Broad City is the liberal, glass-ceiling-shattering, feminist, pot-smoking, Trump administration-hating summer anthem that will surely replace "Despacito."
This weekend at Comedy Central's first Colossal Clusterfest festival, Broad City stars and creators Abbi Jacobson and Ilana Glazer premiered the Season 4 promo, screened an episode from the new season, and participated in a Q&A hosted by Ilana's brother, Elliot Glazer.
Season 4 clearly goes beyond the expected level of hilarity and dives headfirst into the fiery, rancid underbelly of our current political climate, which is evident in Ilana's hardly subtle "f*ck you, Trump" line in the promo that's followed by a determined "I'm going back in" and the sound of a dildo vibrating.
While some may deem the concept as vulgar or go straight to liberal bashing, Abbi, who directed that specific episode, told Clusterfest it focuses on "the power of women." Abbi and Ilana revealed they finished writing last summer and ended up changing episodes after the election. Abbi continued to say,
I think it just ended up being this perfect marriage of us reworking it and I'm really happy how it came out.
While Broad City has always tackled societal issues, specifically based on a patriarchy-smashing feminist agenda, Season 4 goes balls to the wall when it comes to the harsh realities.
Speaking on this season's heavier inclusion of horrifying political woes, Ilana Glazer said,
Everything's more intense right now and it's like it feels more important to connect and more important to feel not alone in how scary and urgent and apocalyptic everything feels. It's like it feels more important to talk about it and ... it's almost like before it was a little bit like, 'we all get it' and now it's like, 'just in case we don't, let's just make every f*cking point of it because it's gotta be clear.'
Continuing the thought, Abbi Jacobson said,
We started [writing] in April [2016], we ended in June? July? And then we took a hiatus, usually, we write and we shoot right after, and this was the first time that we ever had a break … thank God we had that, like I'm so happy we had that break, because when Ilana and I came back you know we had these scripts that were like good-ish but we were kinda like … we feel totally different now, the world feels totally different now.
To help get you in the Season 4 mindset, which will presumably be the most perfect form of escapism, Broad City released an apocalypse-themed video (on Inauguration Day) that definitely sets the tone for the upcoming season.
Season 4 of Broad City comes to Comedy Central on August 23.