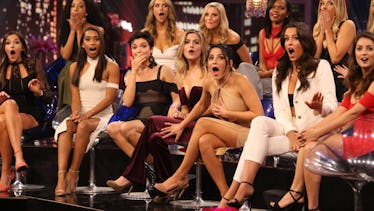 We Have Our Next 'Bachelorette' & Here's Everything We Know About Her Season
ABC
Look, I know we're all feeling a little raw after the season finale of Arie's season of The Bachelor, and maybe even a bit disoriented. No one knows what to think, which Becca (kah) to feel for, or if we can even trust the show ever again. The sneak attack "here's an engagement ring but actually it's not even for you" move that Arie pulled will forever go down in history as one of the series' most spectacular shockers, and I just don't know how to feel going into the next season of The Bachelorette. I mean, when does Becca's season of The Bachelorette premiere, anyway? ABC just announced her as the next Bachelorette and fans are so excited!
After Arie broke Becca's heart, Bachelor Nation rallied together to get her nominated as the next Bachelorette... and it worked. Chris Harrison heard your prayers! At the end of the After The Final Rose episode, the TV host brought Becca on stage to make the huge announcement. Shortly after, Arie's contestants came out with her (including Tia and Bekah M.) to congratulate her. It was a truly special moment, especially after everything she went through.
Last year's Bachelorette, Rachel Lindsay, made history as the first African American Bachelorette and stole the hearts of viewers everywhere. Sure, she picked Bryan Abasolo after Peter Kraus broke everybody's heart, and that sucks, but I'm over it now. Seriously.
The point is, Becca has some awesome shoes to fill, and we can't wait to see what her strategy is going to be in her season. As far as when her season will start, Chris Harrison announced The Bachelorette will air May 28. Mark your calendars, people!
If I've learned anything after all of the years of watching romantic hopefuls accept their roses, it's this: There are mainly three ways you can go about picking your partner. You can either A) Follow your heart, B) Follow your gut, or C) Follow the fan favorite based on social media trends and Twitter. (*cough Peter cough*)
If I could wish one thing for Becca, it would be to have a clear connection with someone early on in her series, and have their relationship beautifully unfold before the public's eyes over the course of 16 weeks or so. More than likely, it will be 16 weeks of romantic manipulation and weird kissing noises magnified by the contestants' microphone packs, but there's always a chance true love might strike. Right? RIGHT?!
To really go behind the scenes for this series, you have to go to the source. And the source is obviously host Chris Harrison. My main girl Ellen DeGeneres sent one of her producers to pick The Bachelor icon's brain, and he gave the world some great insight. For one thing, he explained why he could never be the Bachelor himself. Harrison said,
Here's the thing... In all seriousness after fifteen years of doing this show, producing it, and knowing everybody, it would be very hard to be this naive kind of character that walks on the show and is sincere about it. I would be worried about making the actual show, and producing it, and making good television, and that's not the best way to find love.
A-HA! So you admit it! A lot of what goes down IS for good television. I knew it!
Despite the work the producers do behind the scenes, one thing Harrison promises is that they never tell the Bachelor or Bachelorette what to say. So at least you can know some of the drama is real (though the jury is still out on that Whaboom! guy).
I hope Becca can handle it!
Check out the entire Gen Why series and other videos on Facebook and the Bustle app across Apple TV, Roku, and Amazon Fire TV.