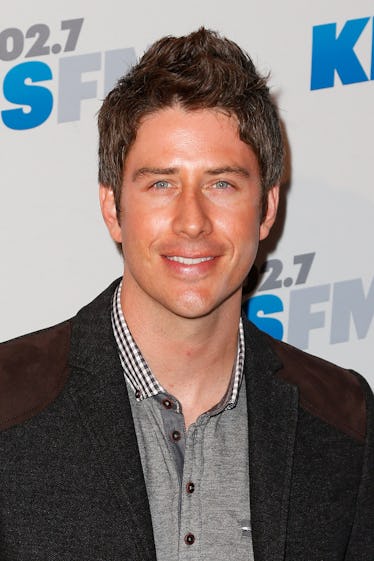 These Tweets About Arie's 'Bachelor' Proposal Will Make You Cringe So Hard
Imeh Akpanudosen/Getty Images Entertainment/Getty Images
The 22nd season finale of The Bachelor has officially been one of the most dramatic in the show's history, and we mean it this time. Arie Luyendyk Jr. proposed to Becca Kufrin in the March 5 finale, much to the shock of Lauren Burnham. Throughout the whole episode, though, Chris Harrison promised something huge was going to happen after the proposal. But the tweets about Arie's Bachelor proposal show that even in the show's most romantic moment, Arie was still awkward AF. Lots of fans are happy Arie originally proposed to Becca, but this finale really seemed to stack the odds against her.
The season finale was filled with confusing twists, especially from Arie's family. The family met Lauren and then Becca when they were all in Peru, and they couldn't stop asking Becca about Lauren when they met her. Awkward. But when Arie asked his fam who they thought he should choose, they said Becca. It was shocking, but he clearly took their words to heart! It came as a relief to many fans, as the trailer for the finale made it seem like the show might end without a proposal at all.
Peter Kraus was famously eliminated from Rachel Lindsay's season of The Bachelorette for not being willing to propose to her during the season finale. Many believed Lindsay's first choice was always Kraus, but the show demands a proposal at the finale, so he was sent home because he wouldn't give the show what it wanted. The show reportedly had a hard time finding someone to take on the role of season 22's Bachelor after Lindsay's season, as they didn't want to give it to Kraus who proved to be a wild card. Choosing Arie must've been a careful decision on ABC's part — they wouldn't have chosen him unless they knew he was committed to the finale they wanted. So while it's easy to think ABC would want to get the ratings spike that would undoubtedly come if Arie didn't propose, its casting choices have made it pretty clear how the network always wanted this season (and every season) to end.
Still, some people genuinely believed Arie wasn't going to propose to anyone during the Bachelor season 22 finale on Monday, March 5.
But as it turns out, they were wrong! Arie Luyendyk Jr. proposed to Becca Kufrin, and they lived happily ever after. (Until they break up in a couple of months like most Bachelor couples do, of course.) Fans are super pleased with Arie's choice, even if he was awkward during it.
In a clip from The Bachelor season finale, Becca made it clear how worried she was about Arie's true feelings. "I was very nervous going into meeting his family," she said in a clip from E! "But I know that they notice the differences between Lauren and I — they called that out. At this point, I just want some clarity on where he stands." She added later in the clip that she saw Lauren Burnham as a big threat. "This entire process Arie keeps saying that I seem so confident," she said. "But the fact is I internally am freaking out because there's one other girl here still and she is a huge threat to me." Well, I guess she didn't need to worry about that threat! Except she did... because Arie literally broke up with Becca just weeks after he proposed.
Yup, in a massive Bachelor twist that has only been seen once before on Jason Mesnick's season, Arie broke off his engagement with Becca in order to try and get Lauren Burnham back. Twitter is pissed about it, and even former Bachelor cast members are pissed. But what everyone is even more angry about is the fact that ABC filmed the entire breakup and aired it live during the finale, completely unedited. Becca was clearly blindsided throughout the whole thing, and it was painful to watch. So yeah, it's safe to say Chris Harrison was right at the beginning of the episode when he said Arie was about to be seen as hella controversial.