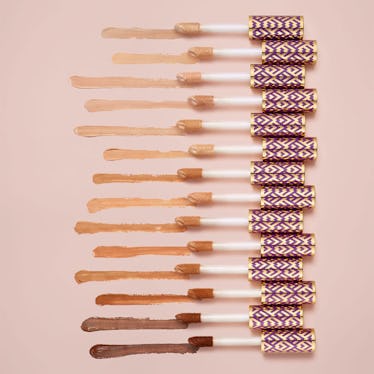 Tarte Is Officially Launching TWO Shape Tape Foundations & They Both Look Amazing
Tarte
If there's one thing I love more than actually buying makeup, it's staying updated on the latest releases. If you're a real Tarte stan, you may have heard the deep internet rumblings of a popular concealer turning into a foundation. I'm here to report that the rumors are true: The cult-favorite Shape Tape concealer is being reimagined into not one — but two — forms of foundation. When do Tarte Shape Tape foundations drop, you ask? I've got all the scoop, my friends, and your 2018 complexion. is going to be so major.
I have a love/hate relationship with foundation. Although I'm open to trying out new products, once I find a foundation that matches my skin, doesn't break me out, and provides decent coverage, I'm set. The other finicky beauty lovers out there can totally feel me. There's nothing I hate more than spending money for an "airbrushed finish" and being disappointed with my purchase. I'm not 100 percent sure, but I feel like I'm going to have to venture out and try out the new Tarte Shape Tape foundations.
If you're a devotee of Shape Tape Concealer ($27; ulta.com), you've probably spent the week freaking out because Tarte teased a new product on their Instagram and Twitter accounts. In the pic, the bottle was a larger iteration of the Shape Tape concealer packaging, so fans immediately recognized the brand's major hint.
Our collective hunch has finally been confirmed, because of the dependable sleuthing of Instagram account @Trendmood1. Trend Mood shared screenshots containing all of the deets on the upcoming launches. In addition to two different foundations, Tarte is also releasing a face brush, makeup sponge, and primer.
Double Duty Beauty Shape Tape Contour Concealer, $27, Tarte Cosmetics
Double Duty Beauty Shape Tape Hydrating Foundation, $39, Tarte Cosmetics
First things first, Tarte isn't going to keep us waiting long. All of the new launches will drop Jan. 21 online at Ulta Beauty's website and Tarte Cosmetics website, and in stores on Feb. 4. The new foundations come in both hydrating and matte formulas, and are called Double Duty Beauty Shape Tape Hydrating Foundation ($39) and Double Duty Beauty Shape Tape Matte Foundation ($39). Each formula boasts 15 shades from the lightest Porcelain to the deepest Mahogany.
Double Duty Beauty Shape Tape Hydrating Foundation
The hydrating formula promises to provide the same creamy full coverage as the concealer, just in a skin-smoothing, weightless gel formula. It's packed with collagen and hyaluronic acid, so your face is going to look like you drink a gallon of water everyday. (It'll be our secret that you're really staying up to late binge-read your new self-help book). Hyaluronic acid acts like a sponge to draw and lock in moisture, but it's a really tiny molecule that feels weightless on skin.
Double Duty Beauty Shape Tape Hydrating Foundation, $39, Tarte Cosmetics
Double Duty Beauty Shape Tape Matte Foundation
The matte formula promises to smooth over pores and imperfections while providing an airbrushed, full coverage finish. Compared to the hydrating version, this one will provide less of a dewy look. Not only will your skin remain creaseless and hydrated, but it's also going to stay oil and shine-free.
If they're anywhere close to as amazing as the Shape Tape concealer, the foundations are going to sell out quickly. The concealer dropped back in 2016, but I've seen and heard so much about it recently. It's everywhere and I can't escape it. Tarte even used it as inspiration for a new eyeshadow and face palette.
Double Duty Beauty Shape Tape Matte Foundation, $39, Tarte Cosmetics
Whenever I watch my favorite beauty gurus, Shape Tape is ultimately mentioned. Each time I open a magazine, Shape Tape is on the must-buy list. I'm pretty sure my best friend's mother's daughter and her friends all use Shape Tape, as well.
But it's not an overhyped product. Between the hydrating ingredients, long-lasting qualities and Tarte being a cruelty-free brand, it really is one of the best concealers of all time. My expectations for the full-face version are at an all-time high, and I can't wait to read the first reviews.
With the release of the two Shape Tape Foundations, Tarte is on par to start 2018 off as the splashiest beauty brand. I'll just be waiting patiently to see which brand is going to try and top this release next.