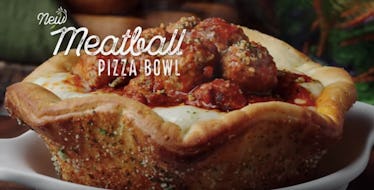 If You Want Olive Garden's Meatball Pizza Bowl, You Have To Go During These Hours
I don't necessarily believe in wishing on shooting stars, but I most definitely believe in wishing on unlimited breadsticks. And in the motherland of limitless carbohydrates, a delightfully new warm, gooey, and crunchy dish was recently born. The Meatball Pizza Bowl is basically exactly what it sounds like: a dangerous combination of meats, gooey cheeses, marinara sauce, and — you guessed it — dough. Lots and lots of deliciously warm dough. So, there's a likely chance that you're wondering when you can order Olive Garden's Pizza Bowl, I have the inside scoop.
I'll start by shamefully admitting that I have yet to try this gorgeous God-given creation, and it's probably my single greatest regret in life. But there's no doubt in my mind that there's one already out there waiting for me, in all its shining grease and glory. In case you weren't already in on it, according to Bustle, a Meatball Pizza Bowl specifically consists of Olive Garden's specialty meat sauce, containing pan-seared beef and Italian sausage, along with super melty cheese, all together in one giant crunchy pizza crust bowl. The most important ingredient of all is a sprinkle of freaking magic on top, because, honestly, I don't think I've heard of anything more amazing in my entire life. I won't lie to you, I am drooling a little bit. It's disgusting, I can't help myself. Also, according ABC 15 Arizona reporter Kari Steele, a Meatball Pizza Bowl weighs one full pound, and that fact alone is just amazing.
Despite what you might think, though, you can't just go to an Olive Garden at any hour or day of the week and simply expect to get your hands on a Meatball Pizza Bowl. No, not for these babies. The glorious Meatball Pizza Bowl's availability, sadly, is a little bit more limited than I would personally like it to be. According to Insider.com, the elusive Meatball Pizza Bowl is exclusively available Monday through Friday, before 3 p.m., as it's part of their lunch time menu. The fact that I can't get a bowl of 'za after a night out or for breakfast (because why not?) is relatively devastating, but I guess I'll get over it, eventually. There's still no word yet confirming whether it is or isn't a permanent menu item to grace our lives forever and ever, but regardless, I need to get one in my belly, STAT.
One Olive Garden dish that is only available for a limited amount of time, however, is the Loaded Pasta Chips. The dish that graced our lives on Jan. 29 debuted specifically for the Super Bowl, and it is only available until April 1 — so if you haven't already done your bod a favor, you should probably get to Olive Garden ASAP. Giving classic nachos a slightly Italian-American approach, Loaded Pasta Chips top crispy fried pieces of pasta with three different kinds of meats, as well as cherry peppers, Alfredo cheese, and a little bit of Alfredo sauce. If you're not sure whether or not that sounds good, you should probably just try it for yourself. I'm definitely pro-Loaded Pasta Chips, so you probably should be, too. It'll change your life for the better, that's all I know for sure.
I'll be honest, there are really a ton of ways I could be spending my cherished weekend, but I'll probably just take some time to dream about the Meatball Pizza Bowl, which I'll undoubtedly be ordering at my lunch break on Monday. Unless anyone is down to recreate a giant pizza crust bread bowl of meat, cheese, and love for me, I probably won't really be able to drag myself out of bed to do anything else... sorry everyone. The weekend is officially cancelled.