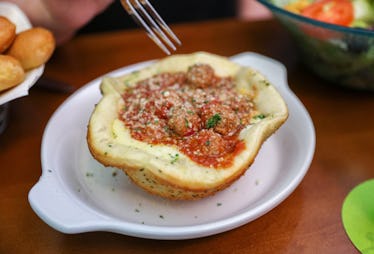 Olive Garden Just Introduced This New Dish & You'll Either Love It Or Hate It
Olive Garden
As a native New Yorker I'm an absolute purist when it comes to my pizza. I love a good dollar slice, and a classic personal Neapolitan style pie, but when you mess with pizza too much I'm immediately skeptical. So when I first heard about Olive Garden's new pizza dish I immediately had a ton of questions — namely does this concept even make sense? I did some investigating on Olive Garden's new Meatball Pizza Bowl, and now I'm surprisingly pretty interested to try this out.
The new Meatball Pizza Bowl is Olive Garden's latest lunchtime menu item. Basically, this is a hybrid Chicago-style deep dish pizza and classic Italian meatball plate all wrapped up in one. The idea is a little out there, but the overall concept is fairly promising. So let's see how the item's description holds up.
A pizza dough crust is inverted to create a bowl shape by using a cup while it bakes upside down so that it retains the shape. Inside the cup is a creamy blend of Italian cheeses that gets baked alongside the crust and is eventually melted into the crust. Once the bowl is fully baked, it's turned over and topped with traditional Italian meatballs and red meat sauce.
Although I'm not exactly sure if this new dish can be categorized as "pizza" it's certainly interesting, and honestly looks pretty good. At least in the pictures, the crust looks relatively light and flakey, and the sauce looks vibrant and fresh. Although having the cheese on the bottom is not the traditional placement choice, I think that it could give the dough a ton more flavor and moisture. Consider me intrigued.
Personally I made the decision to swear off anything that comes in a bread bowl a while ago (that is, after I consistently ate a Domino's bread bowl pasta at least once throughout my freshman year of college). But to try this bad boy, I might make an exception. It's been at least five years since i've had anything of the bread bowl variety, and this Meatball Pizza Bowl might just be the thing that breaks my self-imposed boycott.
The Meatball Pizza Bowl is only available on the lunch menu, meaning you can only have the chance to try this Monday through Friday and until until 3 p.m. As a part of the Lunch Duos offering, you can get this dish or any of the other menu items and pair them with unlimited salad and breadsticks. You get all of that food starting at the low price of $6.99, so this is an amazing steal. The rest of the Lunch Duos offerings include a variety of sandwich and flatbread options, so if you're not feeling this new bowl there are still countless other entrees you can order instead.
Admittedly, I was not sold on this hybrid concept when I first heard about the Meatball Pizza Bowl. I don't always love eating at big chain restaurants, especially since I live in New York City, where the local restaurant scene is huge. But Olive Garden has always been one of those chain spots that I crave.
So will you be seeing me on my lunch break at one of the two Olive Garden restaurants in Manhattan chowing down on a Meatball Pizza Bowl? It's very possible — especially for that low price. I haven't been back in a while, and I do love those breadsticks and the classic Italian dressing they use on their salads. So even if I don't end up loving this meal, it's still a win-win visit to the Olive Garden for me.