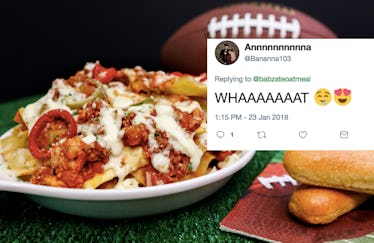 Olive Garden Is Selling Nachos For The Super Bowl & Twitter Is Really Confused
Olive Garden
From hot wings to bean dip, there are a variety of classic dishes I'm definitely looking forward to inhaling this during the Super Bowl on Sunday. And among those dishes includes lasagna — as well as nachos — which ultimately leads me to investigate Olive Garden's latest Super Bowl-inspired creation. Their new dish features both nachos and pasta, but the tweets about Olive Garden's Loaded Pasta Chips show how truly torn Twitter is over the awe-inspiring innovation. Meanwhile, I'm totally already packing my Tupperware as I head over to the Times Square location, because that sounds like something I need to experience.
On Jan. 29, Olive Garden debuted their highly controversial Loaded Pasta Chips, which are an "Italian twist" on nachos, according to a press release. Replacing crispy, salty tortilla chips for crunchy, fried pasta chips, the dish is decadently topped with multiple kinds of Italian cheese, a meat sauce containing chicken, meatballs, and sausage, as well as cherry peppers, and a dollop of Alfredo sauce. It's all for only $10.29, which is a pretty fantastic deal. In reality, the dish sounds like a stomach ache waiting to happen, but I'm guessing that it's most definitely worth the risk.
If you don't plan on watching the game from your nearest Olive Garden, (which I wasn't originally planning on doing, but honestly might at this point), the restaurant has officially shared the Loaded Pasta Chips recipe in their press release, which basically just includes lasagna noodles, which are fried and garlic-salted. Then, you can choose any additional toppings, from ricotta, to meat, or even something fancy — like chives. It's literally that simple. According to the release, it'll also be available at all Olive Garden restaurants until April 1.
As you can imagine, this unique and kind of weird dish has led to mass controversy on Twitter. Do Loaded Pasta Chips sound delicious, or disgusting? Is the heart burn worth the tasty plate of steaming fried pasta? I'm not totally sure, especially since I, myself, have never been fortunate enough to try Olive Garden. But Twitter has a lot of opinions about it, and here are what some of the Italian food-purist/ Loaded Pasta Chip naysayers are saying about it right now, in real time.
There are some positive souls out there (like myself), that feel like this is the opportunity for Olive Garden to surpass all other quick service restaurants (watch out, Chilis). Although we recognize that it may not be considered a part of OG Italian cuisine, it could still be tasty, and might actually be worth trying. In my book, it's a giant plate combining a multitude of tasty foods for only about $10, and most of us are really just looking for some cheese and fried pasta to enter our Loaded Pasta Chip-less lives... right?
So, what do you think? Does a lasagna-inspired nacho dish sound amazing, and would you try it just to say you did? Or are you totally out on Olive Garden and its outlandish creations? While there haven't been too many wild things to happen on Super Bowl Sunday since the god-given birth of The Puppy Bowl, the creation of Loaded Pasta Chips has to be one of the more recent interesting innovations to the big game. If you do decide to watch the game from The 'Garden (or if you go before April 1), make sure to send me some insanely juicy food porn-worthy pics of those Loaded Pasta Chips, because I'm so, so down with it... and I'm honestly kind of hoping I can ditch my friends this Sunday to snag a bite.
Check out the entire Gen Why series and other videos on Facebook and the Bustle app across Apple TV, Roku, and Amazon Fire TV.