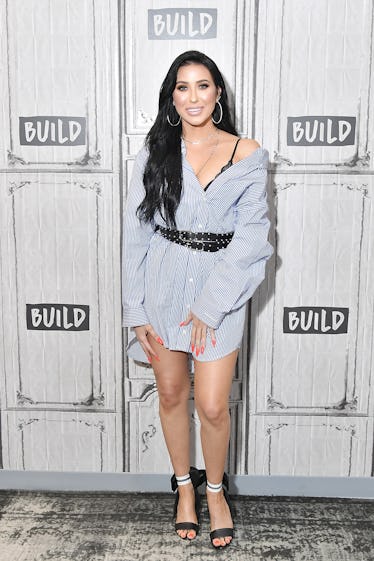 Here's What We Know About Jaclyn Hill Cosmetics So Far
Michael Loccisano/Getty Images Entertainment/Getty Images
As we grow closer and closer to the launch date of Jaclyn Hill's new makeup line, I can't help but feel some ~proud mom vibes~. If, like me, you were watching her YouTube channel long before she hit a million subscribers, you've also been along for the ride, and seen just how much she's had to overcome before reaching this pivotal moment in her career. I feel like I've spent the last six months wondering what's in the Jaclyn Hill Cosmetics line, and now that I'm about to find out for real, I couldn't be more thrilled for her. Or more excited for myself, TBH, because I know I'm about to get some bomb new makeup. There aren't a ton of deets revealed just yet, but if you want to ensure you're up to date on what's what, read on for everything we know so far about the launch and the brand itself.
It's safe to say myself and the rest of Jaclyn Hill's fans have been patiently waiting for a cosmetics line for a pretty long time. With 5.9 million subscribers on her YouTube channel and 6.2 million followers on her Instagram account, she's one of the beauty gurus fans have grown to know and love, and of course, to trust when it comes to what products are worth the hype. When someone whose job is reviewing beauty products decides to create her own, you know they better be pretty damn good, so the bar is set high for Hill and her line.
Based on the promo photos, I'm pretty sure she's rising to the occasion:
If we know one thing for sure, it's that these products will not be boring or typical. "I was not made to be subtle," Hill is quoted as saying on the brand's Instagram:
Can we talk about the brand name for a quick sec?
Honestly, I'm not entirely sure what the official brand name is. The Instagram username implies Jaclyn Hill Cosmetics, but in all the promotional videos so far, simply Jaclyn is written above the launch date. Jaclyn feels reminiscent of Linda Morphe's decision to name her brand Morphe, so I'm honestly all for it. Plus, I don't know any other Jacquelines that spell their name like Hill, so I instantly associate the spelling with her persona. However, the brand site is jaclyncosmetics.com, which feels very Kylie Cosmetics to me. Only time will tell.
Now, let's talk about the debut product:
Nothing is 100% confirmed, but it's more likely than not a lipstick or lip gloss, and here's the tea. When a fan asked that the first product would be, Hill replied with a lipstick emoji, so it's safe to assume it's a lip product, at least. The thing is, there's no lip gloss emoji, no lip scrub emoji, no lip balm emoji, et cetera, so whether the lipstick was meant to represent a literal lipstick or just something in the lip product realm is still a mystery. Based off the above Instagram post, which appears to show a blingy cap, my money is on liquid lipstick or lip gloss, but no one can say for sure. Again, a liquid lipstick would be very Kylie Cosmetics of her.
Okay, so about that launch date:
Personally, I plan to watch the video of Hill swinging on the massive wrecking ball-esque diamond on repeat until the brand launches, which will happen on May 30, 2019. Eager bunnies can sign up now on the site to be notified of exactly when the products go live.
Catch me looking glam on May 30, and every damn day after, courtesy of Jaclyn (Hill?) Cosmetics: