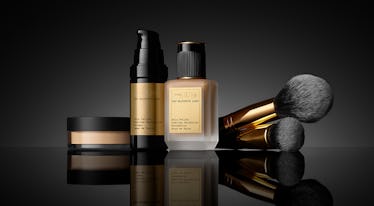 Pat McGrath's Sublime Perfection System Is A 3-Step Journey To A Gorgeous Complexion
Courtesy of Pat McGrath Labs
There's no modern-day makeup artist more iconic than the Pat McGrath, and when the mother of makeup drops a new product, necks don't just turn, they snap. McGrath, generous as ever, is on a mission to ensure the faces atop those necks are perfectly primed, painted, and powdered to the gods, and she's making her dreams a reality via a brand-new base routine full of must-have products coming soon. So, what's in Pat McGrath's Sublime Perfection System? All the face products your skin didn't know it needed. Prepare to drop some serious coin for a finish that's 1000% worth it.
While McGrath is known for a bold, sultry eye or a rich statement lip when creating looks on her very lucky clients, one thing is always standard: impeccable skin. Known to apply foundation primarily with her hands, McGrath won't stop until skin looks downright sublime — and it was this high standard that helped inspire the new line. I don't typically believe in striving for perfection when it comes to makeup, as it's something that does not and cannot exist, but TBH, if anything comes close, it's a good beat from Mother McGrath.
So of course, I was more than interested when she debuted a full line of base products out of nowhere:
"The 25 years in the making secret to runway radiance is here," McGrath declared on Instagram. "Discover a trinity of skin perfecters: Sublime Perfection Primer, Foundation, and Setting Powder."
My wallet's reaction to hearing the news that I'd be spending my life savings on a trinity of skin perfecters instead of food and shelter:
At a press event, McGrath told editors she's been ~secretly~ testing out these products during shows and shoots for years now.
I could talk about this collection forever, so let's start at the beginning: the Sublime Perfection Primer, which will retail for $60:
Available in one mattifying shade, this baby is kind of like a primer and a serum all in one, in that it utilizes ingredients like hyaluronic acid to hydrate in addition to traditional silky smooth priming ingedients. The formula is water-based, so expect a light-as-air, velvety finish. No cakey complexion here, sis.
Next up, of course, is the Sublime Perfection Foundation, which will retail for $68:
Hold my calls for the rest of the day, please. I'm busy staring at this luxurious packaging. So freaking good. The formula is described as serum-like in application and skin-like on the face. Amazing.
For this formula, McGrath developed 38 shades, which is admittedly fewer than I expected, but it definitely appears to span a wide range of skin tones from super light to deep dark:
At a press event, McGrath gave a little more backstory on the process of selecting the shades, and claimed that, as a working makeup artist, this was the exact number and range of shades she felt confident carrying in her kit. "This collection is custom-curated for all skin types, skin tones and undertones, ranging from lavishly light to devastatingly deep hues," the brand adds in their press release. "Each haute hue is tested to elevate every skin tone on set, backstage, on runways and in real life under studio flash photography, runway lights, and in daylight," they added. Ugh, I need to get my hands on a bottle of this ASAP.
The last of the products is the Sublime Perfection Setting Powder, which will retail for $55:
This baby comes in five shade, and is described as both weightless and buildable, so it's no doubt ideal for anyone that loves a good bake. The aforementioned foundations are divided into five shade ranges — Light, Light Medium, Medium, Medium Deep, and Deep — so there's one powder assigned to each category. The formula also includes "diamond-core technology," aka hexagon-shaped pigments that give a soft-focus, blurred effect, so your skin will look FaceTuned IRL. I'm into it.
The collection rounds out with two brushes for easy application. The Sublime Perfection Foundation Brush and Powder Brush, retailing for $55 and $58, respectively:
Ready to indulge in Mother's newest must-haves? The entire Sublime Perfection System will go live on the Pat McGrath Labs site as well as online and in stores at Sephora on July 26,