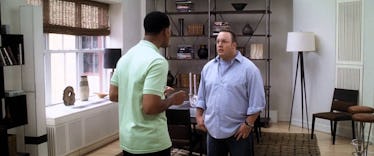 'Hitch' Is Coming To Netflix In December, So Get Those Dance Moves Ready
Sony Pictures
Cue the Usher and Lil' Jon because a certain Will Smith rom-com is about to be a part of your movie-watching agenda next month. What's coming to Netflix next month? Hitch is heading to the streaming service for December 2017, so get ready to watch Kevin James awkwardly bust a move whenever your heart desires.
If you're not familiar with this magical Cyrano-esque love story, the slick and stylish comedy surrounds a suave professional dating consultant (Will Smith, naturally) who helps a lovable yet shy accountant try to land the girl of his supposedly-out-of-reach dreams. Of course, Will has his own love interest in the form of a charming gossip columnist played by Eva Mendes. Romantic mix-ups and dating shenanigans ensue. If you need an adorable and breezy break from all those holiday movies or serious dramas you're probably going to be binging on — this is it, people. As far as mid-2000s romantic comedies go, Hitch is right up there.
Hitch is like one of those films you can pretty much watch any time and not get sick of it. Your Fridays are about to go a little something like this: "What should we watch?" "Eh, should prob just put on Hitch again." "Cool." Boom. Netflix knows what's up.
Hitch isn't the only new exciting thing you can look forward to next month when it comes to Netflix's streaming slate. The acclaimed period drama The Crown finally returns on Dec. 8 for Season 2. The Emmy-winning prestige series is bound to be the talk of critics and loyal fans alike — the trailer alone proves it's going to be a riveting and intense next chapter for the British Monarchy.
"The world is changing: We're going into the '60s, and no one is prepared for what's about to happen," star Clare Foy said of what to expect from the next installment of Elizabeth II's story. "The outside world is encroaching, and you can really feel it. It's not friendly."
The first half of Fuller House's third season ended with a handful of major cliffhangers that left audiences begging for more. What will happen with DJ and Steve?! Will Steve get married?! Don't worry, because the second half streams in December and we'll find our beloved Tanners in Japan, where the cast and crew were lucky enough to actualy shoot. Apparently, during the first few weeks of filming there was a monsoon and two earthquakes, but thankfully nobody was hurt. Nine brand new episodes are coming our way on Dec. 22 just in time for the holiday rush, so plan accordingly. We already have Carly Rae Jepsen's catchy rendition of that classic theme song bouncing through our brains.
November is just barely over the halfway hump and there are still plenty of new titles to look forward to this month. The Punisher was just unveiled in full on Nov. 17, so happy binging everyone. There's also Nov. 22's Godless and the Thanksgiving release of Spike Lee's She's Gotta Have It.
Netflix's historical drama Mudbound, starring Carey Mulligan, Garrett Hedlund, Jason Clarke and Mary J. Blige, is already getting loads of Oscar buzz. That's arriving Nov. 22.
And speaking of Will Smith, his buzzy sci-fi cop fantasy hits Netflix on Dec. 22. We're thinking it's double feature time — big Willie style. (We'll spare you a quote from "Gettin' Jiggy With It.")
This holiday season, we're grateful for Netflix and their bounteous array of programming. Don't forget — there's always Stranger Things if you haven't gotten around to that yet for some (must be a very good) reason.
Get ready to never leave your house between now and, well, we're not sure...