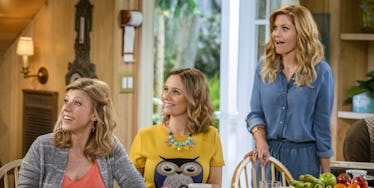 6 'Fuller House' Season 3 Throwbacks That Will Fulfill All Your '90s Nostalgia Needs
Mike Yarish / Netflix
Sure, we watch Netflix's Fuller House because we want to see what the Tanners are up to, we're looking for some wholesome lighthearted fun, and we enjoy the close bond that this family (and Kimmy) have formed over the last 30 years. But we also watch it get the '90s fix we so desperately need, and Fuller House Season 3 definitely satisfies our nostalgia craving.
"Whatever happened to predictability? The milkman, the paperboy, evening TV?" Those theme song lyrics might sound different now that Carly Rae Jepsen is crooning them, and evening TV has been replaced by streaming (so meta, Netflix), but so much remains in the Tanner household. And that's just the way we like it. The Full House revival has done a thorough job of reminding us what we loved about the TGIF sitcom of yesteryear, and it didn't hold back when it came to honoring the show's memories and traditions in Season 1 and Season 2. We get catchphrases galore, returns from almost every major cast member (miss you, Michelle), and even a Girl Talk reunion featuring OG member Gia Mahan. The fam even has a golden retriever, and DJ's ex Nelson, although played by a different actor, made an appearance last year. Season 3 didn't disappoint when it came to the throwbacks either, and these 6 instances are proof.
1. Return of the Bear
Don't call it a comeback. Steph's beloved stuffed animal companion makes an appearance in Season 3 when she gifts him to Max after his toy unicorn gets destroyed. We wonder if he had to share a dressing room with DJ's Pillow Person, who had an updated cameo in Season 2. Apparently the IRL Mr. Bear currently resides at Jodie Sweetin's house, and he was on loan for filming The ladies even did a little photo shoot with him last year (above).
2. A Familiar Tune
Speaking of bears... As far as original Full House favorites go, the "Teddy Bear" song that Jesse, Joey, and Danny would sing to get Michelle to sleep was right up there on the pulling-at-the-heart-strings meter. The Elvis Presley tune-turned-lullaby got a modern take in Season 3, except this time it's Jesse, Steph, and DJ singing together. In the words of True Detective (a show that couldn't have a more wildly differing tone): "Time is a flat circle."
3. Gia and Her Daughter Rocki
One of the best minor characters in Full House history, Gia (played by Marla Sokoloff), gets some more screen time in Season 3 and we're very grateful for that. Gia was a bathroom-smokin-no-good influence on Steph in the original, and her daughter Rocki isn't exactly an angel in 2017. We guess purple hair is the modern-day visual equivalent to the crop tops and chokers that signified "bad girl" back in 1994. When it comes to Fuller House, the apple doesn't fall far from the tree... because that makes for better storylines.
4. Kimmy's House
After all this time, did we really never go to Kimmy Gibbler's home? Nope. It's revealed that her parents fled for Florida around Y2K, and now we finally get to see where she grew up. This is 30 years in the making, people, and the whole thing is just as weird as we expected. Is that a unicycle? You may remember from the 1990 Telethon ep that Gibbler rides like a pro on that thing.
5. Jesse's Dad
Grandpa Nick is back! In a surprise arrival, John Aprea returns as Nick Katsopolis. We haven't seen you since 1991...
6. DJ & Steve 4Eva
Spoilers ahead! In the ninth and final episode of the first half of Fuller House Season 3, we're left with a major cliffhanger. DJ unknowingly admits to Steve thinking he's Kimmy (she's blindfolded by a sleep mask, because duh) that she has feelings for him. But they're on the way to his wedding... This only reminds us how much we ship these '90s high school sweethearts.
We'll have to wait until the second half of the season airs later this year to find out if they'll end up happily ever after. Wonder what nostalgic goodies the show has in store then...