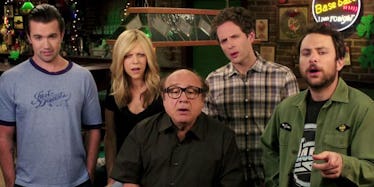 'It's Always Sunny In Philadelphia' Is Leaving Netflix, So Start Binge-Watching ASAP
FX
Terrible news for It's Always Sunny in Philadelphia fans: the gang is going away. Netflix will stop streaming It's Always Sunny in Philadelphia next month, according to the blog Netflix Life, after carrying every season of the popular FX sitcom for the past several years. This is the latest in a string of hit shows being dropped from Netflix's library recently as the service ramps up its heightened focus on original content. Basically, fans have one month to watch (or rewatch) all 12 seasons of It's Always Sunny on Netflix before it leaves for good.
Netflix's licensing rights of It's Always Sunny in Philadelphia will officially expire on Dec. 8, which is when Netflix users can expect to see the long-running comedy disappear from their queues. The exit is part of a larger transition between Netflix and Always Sunny's distributor 20th Century Fox — the two companies have been cutting ties recently, which has led to 20th Century Fox pulling its shows from Netflix. It's Always Sunny was one of the last standing after Bob's Burgers, Futurama, The X-Files, House, Family Guy, and other 20th Century Fox-owned series were taken off Netflix over the past year. After Sunny leaves, the only major 20th Century series that will still be available on Netflix will be its fellow FX show American Horror Story.
Though the news of Dennis, Dee, Mac, Charlie, and Frank leaving Netflix is upsetting, it shouldn't come as too much of a surprise after all the beloved shows Netflix has been dropping over the past few weeks. Last month, Netflix dropped popular series including 30 Rock, One Tree Hill, and Friday Night Lights from its lineup, and earlier this year Buffy the Vampire Slayer was pulled from the streaming service as well. The overhaul seems to be part of Netflix's heightened plan to focus on churning out original content rather than relying on syndicated shows and movies. The streaming service is planning to release a whopping 80 original movies next year as part of its efforts to solidify its standing as a content-producing network rather than just a website used to stream other networks' shows.
But seeing It's Always Sunny in Philadelphia go will hit the hardest for a number of Netflix users. The irreverent comedy has been a mainstay on the service for years, and is one of the biggest shows on Netflix with an impressive 12 seasons available to stream. When the news hit Twitter, Always Sunny fans couldn't contain their anger and sadness, with many of them threatening to unsubscribe from Netflix due to the decision. Check out some of the best responses below:
But all hope is not lost for Always Sunny fans. Paddy's Pub will still be open over on Hulu after Netflix closes its doors. Similar to how Buffy and 30 Rock fans made the jump to Hulu to keep up with their favorite series in the past few months, Always Sunny fans can also continue to rewatch their favorite episodes of the long-running series over on Netflix's biggest competitor.
And of course, if you have a cable TV package then you can catch Always Sunny on the air a good amount of the time. FX and FXX air marathons of the show pretty frequently, and new episodes of the series are still coming out. FXX renewed Always Sunny for a thirteenth and fourteenth season earlier this year, which will cement the show (that premiered in 2005) as the longest-running live-action sitcom in the history of American television.
As I said before, you have until Dec. 8 to get your last Always Sunny marathon in on Netflix before it leaves the site for good, so get going!