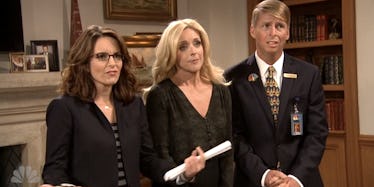 '30 Rock' & 'One Tree Hill' Are Leaving Netflix Soon Because Everything Is Terrible
NBC
Netflix changes around the shows and movies it offers each month, but this month might go down as having the most shocking and upsetting list of beloved shows leaving the streaming platform. The next couple weeks may turn out to be the last time Netflix users will be able to stream their favorite comedy series and teen dramas that have come to be staples on the service after years on Netflix. Although nothing is completely official yet, Netflix users will notice warnings popping up when they try to stream some of their favorite shows on the site this month, stating that they will no longer be available in October. Get the lowdown on what's leaving Netflix in October here.
The most disheartening departures for viewers will definitely be Tina Fey's outlandish comedy series 30 Rock and two beloved, mid-2000s, small-town dramas: Friday Night Lights and One Tree Hill. The blog What's On Netflix reported these were among the large list of series ending their contract with Netflix on Oct. 1. Although the blog noted Netflix could still opt to renew contracts with the shows scheduled to clear out next month, it sadly doesn't seem too promising given the Netflix's big push towards exclusive content.
So basically, you can take this post as a warning to start bingeing your way through these shows in the next couple weeks before they are likely removed from your Netflix queue at the start of October. Other major titles leaving Netflix in October that will depress TV lovers even more include Malcolm in the Middle, My Name Is Earl, Prison Break, Don't Trust the B— in Apartment 23, and recent seasons of American Horror Story, among others.
Take a look at all of the shows Netflix will likely be removing at the start of October, as reported by What's On Netflix, below:
30 Rock Air Disasters American Horror Story: Freak Show American Horror Story: Hotel Animaniacs Apocalypse: World War ll The Bernie Mac Show Bright Lights, Brilliant Minds: A Tale of Three Cities China's Forbidden City Civil War 360 David Attenborough's Rise of the Animals: Triumph of the Vertebrates Discovering Lucy Angel Don't Trust the B— In Apartment 23 Friday Night Lights Hostages Louis Theroux: Miami Mega Jail Louis Theroux's Weird Weekends Malcolm in the Middle My Name Is Earl One Tree Hill Orbit: Earth's Extraordinary Journey Out 1 Prison Break Raising Hope Secrets of the Third Reich Sex, Death, and the Meaning of Life Shushybye Space Race Speed Kills Steampunk'd Truly Strange [The Secret Life of Breasts] Wild China The Grinder The Super The Wonder Years The World's Worst Disasters The X Creatures
Yeah... like I said, we're definitely on the verge of one of the most shocking and upsetting mass exoduses in Netflix history. 30 Rock in particular has become a mainstay on Netflix, as one of the earliest titles the streaming service picked up when it made its transition from a DVD-delivery service to a streaming platform in 2011.
But as Netflix's popularity has grown, it's also refocused its efforts from a simple streaming service to a content creator and studio of its own. What began as a toe in the waters of original series with sprawling dramas House of Cards and Orange Is the New Black back in 2013 has now exploded into full-blown cannonball. Recently, Netflix's additions have been predominantly original series, specials, and movies produced by the service itself, while shows it had picked up from other networks began falling to the wayside.
Although we might be saying goodbye to 30 Rock in the next couple of weeks, fans can still get their fill of Tina Fey and Robert Carlock's zany comedic sensibilities by streaming Unbreakable Kimmy Schmidt, the 30 Rock team's original Netflix series.