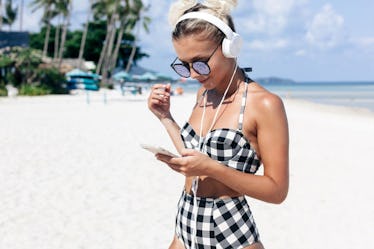 What Your Top Spotify Song Of 2018 Says About You, Based On Your Zodiac Sign
Everybody has their own taste in music. Some people love to jam out to the latest pop songs in the car, while others prefer the rap albums that are taking over the charts. There are the big-time artists who are performing at the upcoming award shows, and the smaller bands that make an appearance on your playlists. Lucky for you, streaming platforms like Spotify have made it easy to curate what you listen to and pick out your favorites. The real question is, do you know what your top Spotify song of 2018 says about you? Per usual, the answer is written in the stars.
If you've been on social media lately, then you know there's been a lot of buzz around Spotify's end-of-the-year feature, Spotify Wrapped. Essentially, this is a list of your most-listened to songs throughout the past year, put together by the streaming service. Listeners can get nostalgic with a sweet reminder of the songs they were obsessed with last winter. It's honestly a very cool concept, and worth generating for yourself.
Within this playlist, though, is one song that says a ton about you and is meant for your zodiac sign. It's the track that you always have on repeat, and that your friends know you'll request in the car. Ready? *Hits play.*