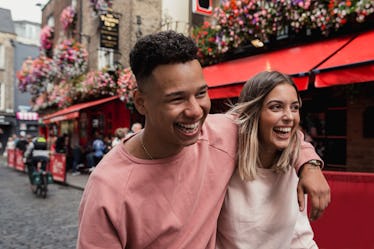 The Present Your SO Will Give You On Valentine's Day, Based On Their Sign
Having someone special to share all your weirdness with can be hard to come by, and you're feeling extra lucky this year for all you've gotten to experience with your SO so far. Together, you've shared endless amounts of breakfast food, been on lots of cute dates, and exchanged gifts for various holidays and birthdays. If you're wondering what your partner will get you for Valentine's Day, start thinking about their zodiac sign. The universe brought you two together, so it clearly won't steer you wrong.
You might have already started eating chocolate kisses and Kit Kat bars, and are secretly hoping your bae doesn't get you another bag of candy. Instead of boxes of truffles and peanut butter cups, you might be crossing your fingers that they get creative and put together a handmade gift. The Internet is full of homemade gift ideas, and there's something so unique and special about an original song, painting, or video.
At the same time, you might be wondering how you'll spend the day. Will it include a morning of having breakfast in bed, or cuddling up with your pup and watching a rom-com before exchanging gifts? While you contemplate that, you should just look to the stars for the scoop on the present you might receive from your partner. They know everything when it comes to Valentine's Day, love, and beyond.
This article was originally published on