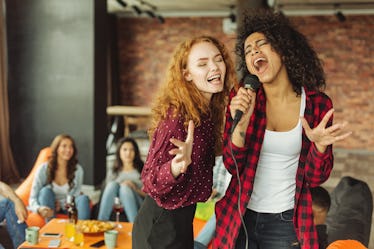 Here's What Your Go-To Karaoke Song Can Reveal About Your Relationship
Shutterstock
As someone who regularly loves to belt out some pop classics at my local Thursday night "Queereoke," I can attest to how cathartic a well-chosen karaoke song can be. TBH, karaoke can be such a fun date night, and someone's go-to song can say a lot about their personality. If you're curious about what your go-to karaoke song can reveal about your relationship, you're in luck. So many songs are rife with significant meaning, symbols, and motifs. When it comes to going out on the town and singing your hearts out, the song that you choose to belt could be a lot more than just a tune that fits within your vocal range.
My trusty standby that never fails to get people singing along is "Not The Only One" by Sam Smith. This ballad is about being cheated on, and while I'm not currently with an unfaithful partner, I have experienced infidelity in the past. Singing this hit in front of a room full of strangers gives me a moment to express my feelings in an exaggerated, public, and somewhat artful way. The song isn't more than three minutes, but during that window of time, I can step into the story I've heard before for a moment of reflection and self-expression.
Check out what the following karaoke songs might reveal about your relationship.