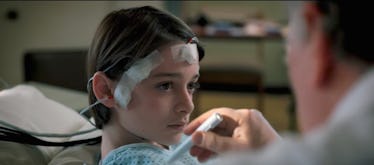 What Will 'Stranger Things' Season 3 Be About? Here's What We Know About Next Season
Netflix
Stranger Things Season 2 was only released on Oct. 27, but if you're a huge fan of Netflix's addictive sci-fi series, chances are you were watching the final episode's credits roll before sunset on Saturday night. The second installment of the '80s-set throwback kept us just as riveted as the first, swinging open doors to new stories, setting the scene for interesting character developments, and leaving many questions unanswered. What will Stranger Things Season 3 be about? The thought is on every loyal viewer's mind.
When the first eight episodes of Stranger Things came to an end, audiences wondered about the fate and whereabouts of Eleven, if Mike was going to be alright in the aftermath of all that Upside Down-ness, and what kind of monsters the people of Hawkins could possibly face after the Demogorgon. Well, many of our burning questions were answered. But now that we've gone even deeper into this tangled web of supernatural circumstances, "bad men," and evil forces (we're also looking at you, Billy), there's so much more to uncover. Will the shadow monster return to exact revenge on Eleven? Are there other Hawkins lab kids out there? Should we expect more romances to blossom? Info about Season 3 is beginning to roll in slowly and we're all ears.
Even though the gate is closed on Season 2 doesn't mean there isn't trouble brewing. Stranger Things couldn't just end like your average coming-of-age movie — everyone smiling at a school dance while the sweet sounds of The Police played softly in the background. There had to be what we can only dub as foreshadow-monstering. Ross Duffer explained to The Hollywood Reporter,
Yeah, we don't end it on a totally happy note, do we? There were discussions about that, but then we went, "Nah, we have to hint at what's to come." The hope we wanted people to get out of it is that this thing [is still out there]. They've shut the door on the Mind Flayer, but not only is it still there in the Upside Down, it's very much aware of the kids, and particularly Eleven. It had not encountered her and her powers until that final episode. Now, it knows that she's out there. We wanted to end on a little bit of an ominous note on that level.
So, it's pretty clear that scary situation isn't completely out of the picture then.
But how long will the people of Hawkins have to chill out in an monster-free environment? Next season is probably going to take place at least a year in advance, especially since the show works with young actors, so get ready for another time jump. "Let's not embarrass ourselves or the audience by pretending these are kids," Shawn Levy told Collider. "They're teenagers now." Perhaps we can expect their social lives to shift from Dungeons & Dragons to girlfriends and dates, if the final scenes of the second season were any indication of where their heads were at.
One thing we don't know at this point in time is if we'll get another glimpse at Kali or more Hawkins Lab victims. Hey, there are least nine other unaccounted for numbers out there. Eleven's brief stint as a punk vigilante gave way to a controversial episode this past season, but it did shed some light on a new character who will forever have strong ties to El. Kali's return is unclear, but that doesn't mean audiences should rule out more narrative experiments, a la Season 2 Episode 7. "We're going to continue to do risks moving forward to keep us on our toes. I didn't want her to just magically save the day," Ross Duffer said of Eleven's journey.
Something else we shouldn't rule out? A potential arc for Mike and Nancy's mom, Karen Wheeler. Her flirtation with Billy was just a hint at what's to come. "You will see that side of her explored," Shawn Levy revealed. "We have much more story for Karen that is linked to her discontent and her dissatisfied sexuality. In the end, there wasn't room [in Season 2] to service all the ideas. Some ideas got punted to next season and maybe beyond, but we're not done with Karen Wheeler and her failing marriage."
Whoa. More Karen in 1985! Or, at least we assume it will be 1985. We doubt the next chapters of Stranger Things will drop before autumn of 2018, but you can bet your last Eggo we'll be keeping our eyes open for more Season 3 intel over the coming months.