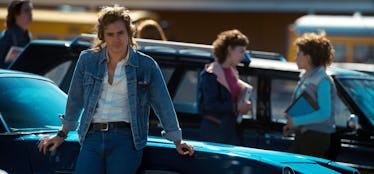 Tweets About Billy & Mrs. Wheeler On 'Stranger Things' Are The Best Thing To Happen To The Internet
Billy Hargrove stepped into the Stranger Things universe and made quite the impact right off the bat. But one person he had a very unlikely and palpable effect on was a one Mrs. Wheeler. Yes, that Mrs. Wheeler. The denim-clad bad boy with the villainous vibes and edgy 'tude let down his hair (actually, his silky mullet is usually blowing freely in the wind) to share an unforgettable moment with Nancy and Mike's mom. It was a scene that definitely made us go "hmm," and the tweets about Billy and Mrs. Wheeler out there are full of opinions about their chance encounter.
All Karen wants to do is indulge in a little relaxation time with her romance novel, bubble bath, and a little Streisand in the background. Is that too much to ask? Ding dong! Unexpected visitor alert: It's the boy with the drop earring. We don't need to spell it out for you, but flirtation ensues. Billy and Mrs. Wheeler's conversation doesn't just feel like fleeting exchange of information about his sister Max's whereabouts. "I didn't know Nancy had a sister," Billy says to a flustered Karen. Classic line, Hargrove. And the suggestive conversing continues. What is happening here?! And will we see more of this inappropriate and unexpected pair in the future? Well, Twitter has feelings.
Executive producer Shawn Levy even referred to the scene as "an instant classic" when he spoke with Glamour. He also revealed that we may not have seen the last of this unexplored side of Mrs. Wheeler. Expect more Karen as the seasons progress, Stranger Things fans. Levy explained,
We have much more story for Karen that is linked to her discontent and her dissatisfied sexuality. In the end, there wasn't room [in season two] to service all the ideas. Some ideas got punted to next season and maybe beyond, but we're not done with Karen Wheeler and her failing marriage.
So far, Karen Wheeler's arc has been limited to the "mom" role, relegated to stereotypical homemaker duties and mostly one-dimensional dialogue. But there's more there. The other parents in the show have complex lives that deserve some screen time.
"I think there's been some intrigue sparked in Mrs. Wheeler," the actress behind the role, Cara Buono, told TV Guide. "Hopefully she'll see what else is out there. Mrs. Wheeler doesn't leave the house too much except to go to funerals."
Dacre Montgomery, who portrays Billy, even chimed in on the scandalous moment. "I said to the Duffers, 'Boys, let's just be cheeky — eat a cookie," he told Vanity Fair.
So, should we prepare ourselves for an illicit Billy/Karen affair in Season 3? This is just one of the many questions we have about what's to come as the series continues on. Hold on to your Twitter fingers, folks.
We don't have too many details about Stranger Things Season 3, but we can only assume Bad Boy Billy will be back given all the info at hand. But how will his story progress? We can't imagine he'll go full Steve and start hanging out with the younger kids. Man, that would be a real twist. Some might feel that the character's story was somewhat of a throwaway that took up valuable Mind Flayer action space, but we feel like we only want to know more about him moving forward. Getting a glimpse at his family life and the real villain behind the villain only intrigued us further, so if he gets a deeper role in upcoming chapters that weaves into everything else they have to tackle, so be it. As long as there's enough time to answer all our burning questions... Let the countdown to Stranger Things 3 commence.