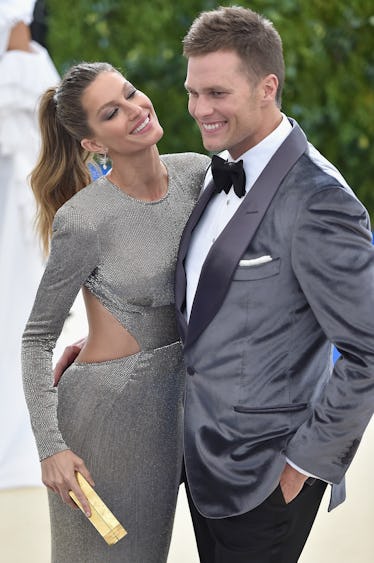 What Tom Brady Is Probably Like As A Partner, Based On His Zodiac Sign
Theo Wargo/Getty Images Entertainment/Getty Images
It can be scary to invest your heart into a celebrity couple. When there are two celebs who we admire who fall in love, it's hard not to root for their success. All too often, however, that ends in heartbreak — not only for the couple, but for the fans who stan their love. But if there's one couple who you can really invest all your hope in, it's Tom Brady and Gisele Bündchen. That's in part because they've already shown they can get through rough times, but also because of what Tom Brady is like as a partner, based on his zodiac sign.
Bündchen and Brady met back in 2006, but shortly after, Brady learned that his previous partner, Bridget Moynahan, was pregnant with his child. This could have spelled the end for Brady and Bündchen, but they stayed together, and now, 12 years later, they're still going strong and have welcomed two kids of their own. Pretty amazing, but the more you know about what it's like to be loved by a Leo like Brady, the more it starts making sense.
Brady was born August 3, 1977, under the astrological sign of Leo. This is sign known for being a star — if only in their own mind — and for their warm, expansive heart, making them excellent partners, friends, and parents. Here's what else we can guess about what Brady is probably like as a partner based on his sign.