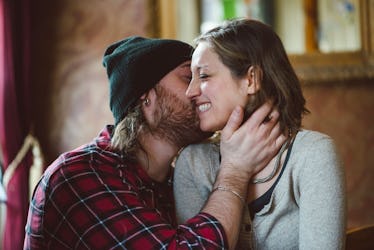 If Your Love Language Is Physical Touch, Here Are 6 Perfect Date Ideas To Get Close
One of the best things about going on a date with your SO — or even someone new that you like — is that it gives you an excuse to get up close and personal with them. That's even more true if it just so happens that your love language is physical touch. While any date can be one where you can get cozy, some activities offer more reason for physical contact than others. So, if you're in the process planning your next night out together, it doesn't hurt to have a few date ideas if your love language is physical touch handy to suggest oh-so-casually. That way, you can ensure you'll be speaking your favorite love language all night.
The best date ideas for those who consider physical touch their love language are ones where being in contact is either central to the activity, or one that puts you both in a position where it's natural, comfortable, and appropriate to be up close and personal with your (lucky) date. After all, who doesn't love a little extra PDA on date night, am I right? So, if you're in the mood for a special night, here are some sweet and romantic date ideas to get you started.