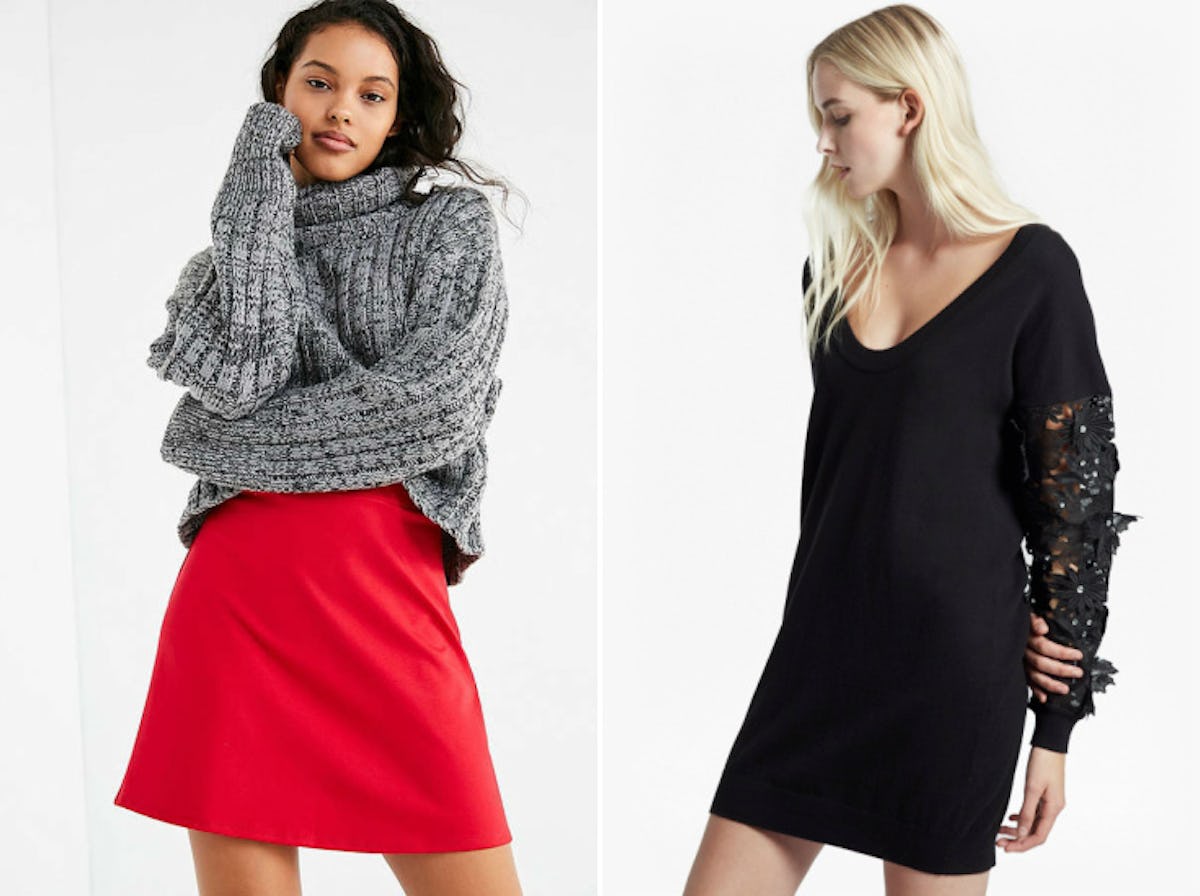 What to Wear On A First Date In Winter, Based On Your Zodiac Sign
Urban Outfitters/French Connection
It's January and your friends are all shacked up, engagement announcements like land mines on any social media you check. It's like everyone swiped right at the exact moment you were cramming a burrito in your mouth and binging on the last season of Game Of Thrones. But you have a date tonight. Yikes! Deciding what to wear on a first date in winter can be downright befuddling.
While your anxiety or excitement stews, you have work to do. Gathering opinions from an arsenal of friends, angled selfies, and the requisite best friend approval can only get you so far when prepping for that exciting first —or ever elusive second — date.
With all that said, dating can sometimes feel like journeying through the nega-verse, but picking your outfits doesn't have to torment you. Leave that to waxing, or any other beauty treatment that your aunt partook in when you were in middle school.
Let your zodiac sign and my caffeinated blood guide you tenderly into outfits that will impress your date so hard they fall in love with you forever, no take backs. Whatever battle garb (excuse me, date night chic) you choose, be sure to get your dates sign. Because the date is just one half of the experience — the other half is Googling them and your compatibility when you get home after.
Aries
Urban Outfitters Brixton Pack Derby Hat, $56, Urban Outfitters
You're the first zodiac sign for a reason, baby. Always leading the pack, you occasionally have to reel yourself in from wearing an all-leather getup to class or the beach — but not for dating.
Peacock it in style like the infamous Boss Tweed with a cute bowler hat and/or suitpieces. I know what you're thinking, oh wow Nicole that's terrible you're terrible and I hope you really DO get food poisoning from eating that almond off the ground, but all I can say is that Annie Hall does it, and she looks like fresh-faced death by cuteness.
Exhibit A:
All she needs is a machete to stab Woody Allen in the heart and we've got ourselves a great outfit for a first date!
Taurus
American Eagle Soft & Sexy Velvet Cami, $10, A&E
I'm going to give it to you straight: velvet tops and camisoles layered under warm, cozy flannel. Other signs may go big on fashion risks, but when given the choice, you will almost always go home. Honor your practical soul with clothing that doesn't require you to yank it into submission every three minutes, and spice it up with sexy velvet because it's dope.
Try this little number from A&E and hope that your date goes better than David Lynch's 1986 Blue Velvet, a film that I still do not understand and gives me nightmares.
But the real star of the show is this necklace:
Choupette Necklace, $298, Catbird
Yes, there price-tag is a little steep, but just think of the sparkle in your great grandchildren's eyes as you present them with a family heirloom, a physical part of the outfit you wore the night you met your future husband.
Gemini
French Connection Manzoni Sparkle Knit Jumper Dress, $140, French Connection
Gemini, we all know your closet is a mess of different styles and experiments, and we love you for it.
Go full bore French in a little sweater dress with messy hair (and maybe a polished red lip?) that will bring out the texture of the sleeves. Bonus: you can drink a lot of wine and it seems intentional and sophisticated. I've found the best way to achieve that messy and volumized look is through texturing spray like Garnier Fructis Style Deconstructed Texture Tease ($5, walgreens).
*Plus, use the code "FC60SB" right now to score this dress 60 percent off! Oui AF.
Virgo
Mudra Drop Crotch Yoga Jumpsuit, $80, Satya Yoga Wear
Your sweet mind needs peace before, during, and after a date. Which is why I'm suggesting overalls.
HEAR ME OUT. These ones are soft, stretchy, and you can do yoga in them if you get anxious when your date starts talking about how crazy all of their exes are. If it's really frigid outside, you can layer them over a chunky cropped sweater and have a little rib cage peek out for some sex appeal. After you remove your coat, of course.
I also love the big kangaroo pocket at the top, where you can stow your phone or blood capsules that you can bite down on when your date isn't looking to make a dramatic exit.
Cancer
Vintage Windbreaker Jacket, $98, Etsy
Tender Cancer, for you I am picturing '80s chic and FUN. Dates can all too easily become draining for you due to your caring nature and need for everyone to have fun, so kick it up a notch with dancey outfits and a splash of neon. Think Stranger Things-flirty.
The great thing is that you could be Steve or Nancy in this photo and all of the above would still apply.
Leo
New Balance 515 Sneakers For Men, $40, Sierra Trading Post
Some of the best people I know are Leo's, and all I want is your eternal happiness and unending glory.
My biggest piece of advice for you is not to be afraid to buck convention. Let go of dress-up norms and experiment with sturdy, all-weather-friendly retro men's sneakers and cuffed jeans. You must cuff your jeans to show off your kicks. If the fit is right, it can be a whole new kind of Cinderella story.
Libra
UO Ginger Ponte A-line Skirt, $34, Urban Outfitters
Libra, your natural enthusiasm and peace-loving nature makes dating you a treat and a half.
Considering blessing your date with an outfit that screams wow! I am so soft. I love the juxtaposition of a chunky sweater tucked into mini skirt (with sparkly tights if you need 'em) for an interesting silhouette and approximately 3 cozy points (add +1 point if cable-knit). Given that you don't have an animal sign, consider an animal print sweater to ascend the natural order and create world-wide chaos.
Use warm tones in your makeup for a more romantic variation.
Scorpio
BLANKNYC Life Changer Moto Jacket, $98, Nordstrom
I don't need to tell you that Scorpio is one of the most contradicting signs in the zodiac. While that sometimes can be seen as a negative trait, I think it's baloney sandwiches. Some of the best outfits I've seen merge two contradicting styles or ideas to create something wonderfully interesting.
Case in point: layer a leather jacket over your favorite dress for something unexpected and complimentary to BOTH sides of your personality.
Sagittarius
Wilds Set, $150, Free People
Matching sets are highly underrated, and I can't imagine a better sign to show how great and versatile matching sets can be.
The wilder the pattern the better. If your set feels a little loud for Coffee Meets Bagel, consider mixing and matching with more neutral pieces. I'm sure your date will see your wild and fun-loving side even without the bananas outfit.
Again, this is one of the more expensive pieces, but it's an entire outfit, which eases the sting from your bank account and heart.
Capricorn
Garden District Black Wrap Maxi Dress, $68, Lulus
Your determined nature and ambition make me want to dress you in something sleek and powerful and fast. Like this ridic unitard. But let's save that for marriage or another antiquated social construct that only serves the needs of the dominant culture.
I do, however, like the all-black. It's very Goth-contemporary, and speaks to your beautiful and sometimes terrifying nature.
Aquarius
Women's High Waist Princess A Line Midi, $24, Amazon
Tutu's are not just for badly behaved toddlers. Amp up the mystery with a midi-length tutu skirt to keep your date guessing and also because it's cute as hell.
I love pairing feminine pieces like this with band t-shirts and simple, no-frills tops. This look says: 'Trust me, this is street style, and I know what I'm doing.'
Pisces
Midi-Rise Pixie Long Pants, $29, Old Navy
Sensitive Pisces, show off your artistic flair and creativity with a print that screams louder than anything else in the room!
Try a cropped turtleneck and outrageous pants to make a statement on your date. The statement could even be, 'check out these wild pants'.
Fun textures and style can be more neutral than you think, depending on your top. Try it all on, no judgement. See what works. There are no losers here. Just pants.