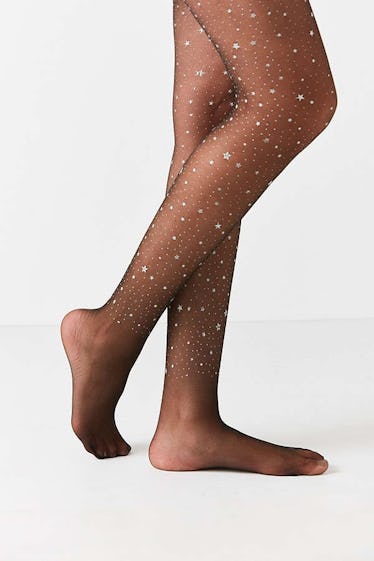 These Sparkly Tights Will Give You A Leg Up On Everyone Else's NYE Outfits
If you're one to leave New Year's Eve outfit shopping to the last minute, fear not. Rather than scouring the internet for the perfect sequined dress in an undoubtedly stressed out state, I recommend you opt for a pair of New Year's sparkle glitter tights to pair with items that you already own. These festive stockings come in an array of colors, styles, and finishes, and are the absolute easiest way to add an element of shine to any outfit.
Think about: you can wear tights year after year with different clothes and never have to worry about buying a glitzy and festive look (that you only wear once) ever again. The cherry on top? They're cheaper than any new dress would ever be.
If you already own a LBD, then you've got something to pair with literally any style of glittery tights for a fancier night out. Throw on some black heels, grab a matching clutch and you're set. Want to go for full-on glitz? Try rhinestone encrusted fishnets à la Kylie Jenner with a decidedly extra NYE dress and don't look back. If you usually celebrate New Year's at a house party or in a more casual setting, cuff a pair of relaxed jeans and let the tights peep out from underneath. A white t-shirt and gemstone statement earrings would complete the look. And if your occasion falls somewhere in between the above, any type of skirt and neutral top will do the trick.
From rhinestone studded fishnets to star spangled pantyhose, these glittery tights say "my legs are here to party — and so am I."
Goodnight, Moon
For dreamers only: This is what I imagine moon dust to look like, just in tights form. The shimmery silvery color has a fairytale look to it and would infuse any outfit with an element of fantasy.
Constellation Prize
I'd wear these celestial beauties with a black skirt, black blouse, and patent black booties to really let them shine. (Can you tell I've lived in New York for the past 8 years? All black errythang.)
Gold Rules
You can't go wrong with a simple glittery gold style. This pair isn't overly, in-your-face shimmery, meaning it's perfect for any occasion, no matter how fancy.
Seeing Spots
This pair looks like the Milky Way, but wearable. They're elegant yet subtle, and (dare I say) out of this world.
Midnight Sky
The gutsiest of the bunch, these would look super rad with a vintage band tee, black denim skirt, and platform booties. If you're headed to a concert on NYE, they should be your pick.
Liquid Metal
There's silver, and then there's SILVER. These tights literally look like liquid metal. There's nothing understated about them. If you love to flaunt your stems, make these yours right now.
Sheer Brilliance
These totally bring me back to my dance competition days and I don't hate it. I'd pick this pair to layer under denim and have peep out at my ankles. They look super subtle, but also pack a shiny punch when the light hits just right.
Black Magic
Perhaps glitter tights feel too extra for you. Take a baby step up from plain black opaque tights with this subtle pair.
Super Stars
Another pair of night sky tights, these are super graphic without being overkill. (Can you tell I like stars?) I'd wear them with a midi dress so they would show just enough to get noticed.
Net Result
Chicago is my favorite Broadway show, so naturally I had to throw a pair of fishnet tights into the mix. Fishnet was also a huge trend for 2017 (every model in the world seemed to be styling their looks by layering fishnet tights and shirts underneath), so you only need to look to the best street style sites for inspiration on what to pair them with.
Knitted Up
For a slightly cozier look, go for knit tights. Strands of glitter are woven into this pair to give them an elevated appeal.
On The Dot
Despite their polka dot design, these tights have a subtle shine to them, thanks to their measured use of glitter.