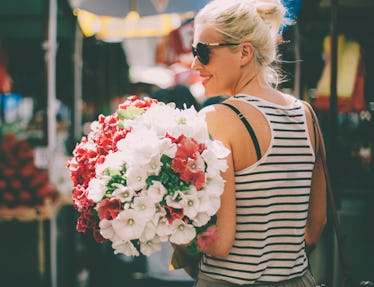 Here's What You Should Splurge On In Your Love Life, Based On Your Zodiac Sign
Now that I'm single, I subscribe very stubbornly to the Treat Yo Self philosophy. I like knowing that I'm fully in control of my own happiness, which is all the inspiration I need to spend my time, energy, and hard-earned money on things that make me feel better about myself and about life in general. This isn't quite the same as haphazardly deciding what to spend money on. It's more about paying closer attention to my physical, emotional, and spiritual needs so that I always feel like I'm presenting my best self to the world around me.
As an example, I recently signed up for kickboxing classes. Not because this is a skill I think I'll need on first dates (although, if I do, I'm ready) but because it makes me feel stronger and more confident, which is evident in my interactions with new people.
This philosophy doesn't only apply to single gals. It's easy to forget to take care of yourself when you're in a relationship, too. Sometimes all it takes is a fresh manicure or a mid-week yoga class to brighten your mood and remind you of all that you have to be grateful for in your life, like your loving and supportive partner.
To help you get to that point, I spoke to Jaye of GiftedAstrology.com to round up a list of items and experiences you should splurge on to create the love life of your dreams.