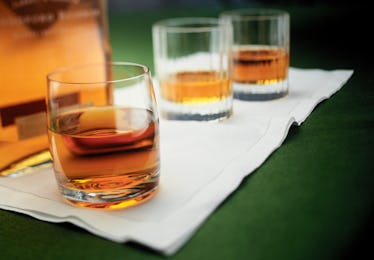 I Went To A Scotch Tasting To Meet Guys, & Guess What? Of Course I Did
My friends are all women. I work with all women. My hobbies include taking barre classes (with all women), attending weekly Bachelor viewing parties (it's all women), and going to Beyoncé concerts (come on). Unless I intentionally seek out men on dating apps, I don't naturally encounter a ton of them. I've always assumed the best places to meet men are in stereotypically male-centric spaces — like sports bars, the weight room at the gym, or in line to buy the newest Call of Duty — and I really can't muster up the interest in going to any of those places.
When I got a random Facebook invitation to a scotch tasting, I almost turned it down. But then, I saw it was held at one of my favorite bars — the Library Bar at the Hudson Hotel, styled like a fancy library you'd find in a Fortune 500 CEO's manor — and I was interested. The center of the room has a purple pool table, and it's surrounded by oversized brown leather couches, silver candelabras, and Assouline coffee table books, featuring glossy photos of Studio 54 and vintage Chevys. The vaulted ceilings are lined with books.
I've actually had a meet-cute at the Library Bar in the past. I was out with two girlfriends when two guys asked if they could join us on the leather couches. They were like parodies of eligible bachelors: They had five Harvard degrees between the two of them, blindingly white smiles, and genuinely hilarious tales of all the weddings they crashed together. I wound up going out with one of them for the next two months.
What I'm saying is, the place has good vibes. And it was featured on Gossip Girl, when Blair walks in on Nate hooking up with Catherine, which is a good enough reason for me to like it.
My hunch was that the event would be packed with men — and not just any men, but scotch-swilling men who own dinner jackets and might whisk me away to the green rolling hills of the Scottish countryside for a romantic getaway someday. I RSVP'd yes.
The scotch tasting was held on a Wednesday night at 6 p.m. on the left side of the Library Bar, exactly where Nate and Catherine once hooked up. I was handed a souvenir scotch glass, a pen, and a small notebook printed with the words "PASSPORT TO SCOTCH," so I could take notes on each of the 13 beverages available to try. Dominic Venegas, the Master of Scotch at Pernod Ricard USA (the company that owns the scotch brand Glenlivet, plus Absolut Vodka, Jameson, Malibu, and others), was on hand to make recommendations, pour drinks, and discuss the composition and history of each bottle.
I think I was supposed to sample each drink and get my passport stamped after each one, but (1) I didn't want to black out before 7 p.m. on a Wednesday, and (2) I forgot to collect any stamps because I was busy talking to handsome men.
Scotch makes me feel like a better person. Younger, faster, more charming.
See, when I approached Venegas for my first glass, there was a guy in a green, plaid flannel shirt and gray cardigan by the main scotch table. We exchanged a few words. I won't lie, Flannel Guy was hot. While Venegas poured me a glass of Glenlivet Founder's Reserve and walked me through its flavor profile (it has "creamy vanilla and caramel apple notes"), Flannel Guy waited by my side. And waited. And waited. Because Venegas knows everything there is to know about this drink, and there's a lot to say!
Eventually, I thanked Venegas, and Flannel Guy and I got to talking. At first, we discussed work, because that's how people flirt in New York. (My cover story: I was definitely there to write about scotch for Elite Daily... totally not there to write about scotch tastings as a way to meet men, ha ha ha.) But then, the conversation moved to travel, books, and the extensively-detailed etiquette surrounding men's hats. There was a lot of casual, flirty arm-touching. We were vibing. It was fun.
When I mentioned I didn't want to get too tipsy because I had dinner plans later, he waved over a bartender to choose the very best drink on the table for me.
"If, let's just say, a person is only going to have one more drink, which one should it be?" Flannel Guy asked.
I was kind of touched that he considered my plans so thoroughly. The bartender selected a bottle of Aberlour A'bunadh, a 122.2-proof raisin-flavored scotch so strong, my eyes watered. I muscled my way through three tiny sips before dumping it out.
A scotch tasting is a safe harbor for guys in relationships who don't want to f*ck up.
Eventually, I made the rounds to meet other people. Correct me if I'm wrong, but a young woman earnestly approaching older men to ask if they could talk to me about scotch is, like, porn? For some dudes, anyway?
"You literally just want to know why I like scotch?" a 28-year-old professed single-malt lover asked, clarifying if this could possibly be real. He recounted watching his dad drink it at the dinner table as a kid. "It's a mature drink. You gotta try it out once you're an adult — a real adult."
A 42-year-old in a houndstooth sports coat told me he drinks scotch to "wash away bad thoughts about Trump." When I pointed out we were four blocks from Trump Tower, he exhaled heavily. "Remind me to piss on his doorstep."
"Scotch makes me feel like a better person. Younger, faster, more charming," he continued. His girlfriend hates the drink. "Chicks don't like malts. That's the thing — a scotch tasting is a safe harbor for guys in relationships who don't want to f*ck up."
That's when I really noticed how alone I was in the crowd of 20 men. The only other woman present was the publicist who coordinated the event. We happened to be wearing nearly identical cream-colored floral blouses.
The scotch tasting was entertaining. I don't know if I would've been confident enough to show up to the event without a cover story. I might have felt weird faking my way through sampling beverages I mostly hated, all for the sake of meeting men. There are dating apps for that, and you can swipe from the comfort of your own couch with a glass of Pinot Noir in hand.
But ultimately, I learned that I can hold my own in male-centric spaces, and that it's not a bad thing to shake up my all-women, all-the-time M.O. Plus, I was pleasantly surprised to discover I enjoyed the Glenlivet Founder's Reserve a lot. This chick liked a malt — who knew?
On my way out, Flannel Guy touched me on the arm and slipped me his card. I tucked it into my clutch and gave him a hug. "It was great meeting you," he said, then stepped back to give me a handshake. He froze, wide-eyed, his hand halfway to mine. "I'm sorry, I don't know why I just tried to do that. So awkward." I didn't mind — let's blame any hiccups on the scotch.
Check out the entire Gen Why series and other videos on Facebook and the Bustle app across Apple TV, Roku, and Amazon Fire TV.
Check out the "Best of Elite Daily" stream in the Bustle App for more stories just like this!