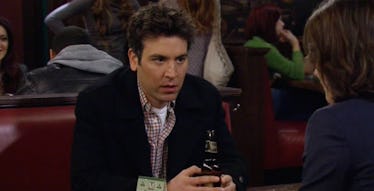 Ladies, Here's Where All The Single Guys In Your Neighborhood Are Hiding
20th Television
If you live in a big city like me, trying to find out where the hell all the single guys are can seem impossible.
You may be on dating apps, sure, but you're probably still keeping your eyes and ears open IRL because you're still clinging tightly to the fairytale idea of meeting someone in-person. (No? Is that just me?)
it seems like there are a million eligible single guys and a million hotspots where they like to hang. But the question is, where exactly are these meccas of hotties?
There are the obvious places, like sports bars on any given weeknight. But surely there are other places, too. So, we went straight to the source for some intel.
Here, 10 single guys reveal where you can "accidentally" bump into them:
You can find this guy next to the drills:
HOME DEPOT
Find this guy in the kitchen:
You can always find me in the kitchen at parties
This guy can be found at the grocery store:
You can meet me at work, in the grocery store, or at a gas station. If you somehow manage to catch me out on the trails, that would actually pique my interest.
This guy lurks around weddings:
Honestly, no idea. Volunteering, classes, and social events (i.e: weddings) are generally where I spend the most time interacting with new people, given that I don't do the bar or club thing. But in all those, I notice a strong weighting in women over men. Often 70-80% women, and even the 20-30% guys are not necessarily single. It's probably not a super efficient way for women to meet single guys. Personally, I would try leveraging your social network. Focus on meeting other people, both guys and girls, and try to get them to introduce you to the guys they know who might be suitable?
You can find this man in the Lord's house:
Do more social activities with the interests you have. You like church? Check out other churches or join a small group. Like arts? Check out art festivals or shows and say hi to people.
You can find this guy in the great outdoors:
In the woods. Start hanging out at your local hiking/climbing/camping spots Edit: I see a lot of people already said hiking or other outdoor activities. IME, guys that are into these kinds of things are looking for a girl who shares a love for the nature and outdoor recreation
This guy is up in the gym just working on his fitness:
Probably at the gym, but there's no way I'm initiating the approach there.
This dude is always on public transportation:
On the bus/train..? That is where I can be found most days.
This guy hangs in only one place:
By breaking into my house...? I don't know, I don't go out much. Please don't break into my house.
Apparently, you can find this guy literally anywhere:
Literally anywhere. Stop waiting for us to come up and talk to you and say hi. You will instantly get better results because we are surprised and interested when a girl shows interest in us first.
Ah, so that's where they've all been hiding! Seems to easy...
Citations: Where can women meet you? (Reddit)