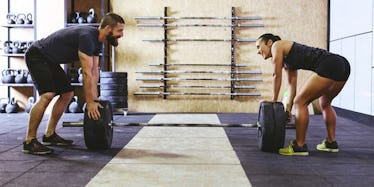 I Hit On Men At The Gym And Came Up With A No-Fail Five Step Routine
Looking for love is exhausting. And possibly fruitless.
How many times have we heard that we'll only find love when we're least looking for it? Too many, in my opinion. And it's because of this that we experience that never-ending internal battle of whether we should actually stop looking and simply live on, hoping we'll accidentally happen upon him in the street (à la Carrie Bradshaw) -- or keep looking anyway.
Well folks, I'm starting to think that life isn't a Nicholas Sparks novel, and you most likely aren't going to bump heads with your future husband on a crowded city sidewalk. So it's best to always keep your eyes and ears open -- especially in male-heavy environments.
There are the places that come to mind immediately, like that seedy sports bar you've been going to forever and your local hip bookstore. But then there are those places one wouldn't think to look -- one place, in particular, that's prime for the picking of potential romantic partners.
It's a place where we're so wrapped up in what we're doing that we don't take a moment to look around and appreciate the, er, scenery -- and even if we do, we usually don't act on impulse.
Ladies, I'm talking about the gym.
Yep, that place you go to after work to de-stress and nothing more. I'm here to tell you the gym is more than a place to do froggy crunches -- it is a shining beacon of hope. It is an untapped resource, a hidden treasure of men possessing that possible perfect "husband" package we all aspire for.
Think about it: gym-goers are concerned about their health, physical appearance and aren't lazy, just to name some qualities you'd want in a hubby.
Not to mention, the gym screams sex: You're surrounded by sweaty, grunting men, and beautiful women doing hip thrusters, and that machine on which they open and close their thighs (its sole purpose is really just to make them look like they're DTF).
Basically, everyone taps into his or her most primal self at the gym.
A couple of days ago, I went to the gym with the intention of hitting on some hot hotties, and my experiment turned out way better than I expected it would. So, I've put together a little how-to for picking up men at the gym. It's a no-fail way to nail the man of your dreams.
Step 1: Assemble a cute workout outfit.
This step is very important because it's all about striking that perfect balance. You don't want to look like you're trying too hard, but you also want to accentuate your best assets.
So if you have a great butt, wear neon or black spandex, not jogger pants. If you have a great rack or sexy collarbones, wear a well-fitted sports bra with a breezy tank.
My go-to "fat day" outfit for the gym is a sporty-but-low-cut New York Giants tee with black leggings. On days when I'm feeling lighter, I don a fun, playful tank with colorful leggings so I can show off my arms, the part of my body I'm proudest of. If you must wear makeup, opt for the minimal, natural look.
Again, this isn't a runway, so you're not expected to look perfect. Just don't look like you DGAF by wearing that frumpy DARE shirt you got in the fifth grade.
Step 2: Approach a barbell with heavy weights on it.
When I walked into the gym that evening, my eye immediately gravitated to a six-foot, fit, blond-haired, blue-eyed looker in a muscle tank (what can I say? I'm a sucker for blondes).
You know that whole damsel-in-distress act, when the guy comes to the girl's rescue because the girl is helpless and doesn't know what she's doing? Well, that's only effective in specific situations. In others, it's the exact opposite of what you want to be doing (I'll explain further later on).
Anyway, women are biologically the physically weaker sex, making the unfortunate truth that sometimes, we need a little help from a man -- especially when it comes to the physical strength department.
So I walked right up to a 40-pound barbell that had an extra 50 pounds on it -- sure because I wanted to "challenge myself," but also because the cute blond just happened to be standing there.
When I tapped him on the shoulder, he took his earbuds out of his ears.
"Sorry to bother you, but could you take these weights off for me?" I asked.
"Sure," he said, smiling and sweaty.
He innocently poked fun at me for being unable to lift the barbell. I admitted my 110-pound, only somewhat-seasoned frame would have a difficult time handling that much. After a few minutes of body banter, I thanked him for the help and threw my headphones back on.
I'm not going to lie: After successfully hitting on the hottest guy in the room, I was feeling pretty good about myself. With my newfound confidence in tow, I schlepped to the mats for the next part of my routine: lunges with free weights.
Step 3: Practice good form.
Now, here is where you don't want to play the damsel-in-distress.
There's nothing sexier than watching a woman push her body to all of its limits. She looks determined, confident, strong and like she'd be a f*cking animal between the sheets.
When you lift your free weights, try to get a spot in front of the mirror, where the rest of men are positioned. This way, you cannot only ensure you're keeping good form, you can also casually make eye contact through the mirror with the men who are doing the same.
Step 4: Give your best bedroom eyes (and voice).
I have a sexy voice that I only whip out for special occasions: in the bedroom, at the bar and when I'm hitting on a dude. Part of owning your femininity is using what God gave you to your advantage, and the gym is the place to do just that. So, girl, channel yo' inner Megan Fox.
Eye-f*cking is crucial, too. Most people spend their time exercising listening to music, in the zone and unwilling to talk to anyone else. This is totally understandable -- unless you're looking to score.
As I moved on to work my triceps, I found a spot next to a mid-20s, brown-haired bro. Using every ounce of energy I had left, I lifted the sh*t out of my dumbbells. When I was finished, I turned toward the bro.
"I'm dead," I said breathlessly, dropping my weights to the floor. My bangs fell into my face and, with the help of some trusty ol' sweat, stuck onto my forehead, which only amped up my sex appeal.
"Oh, I'm dead too," he laughed, "but that's a good sign. I think I've seen you here before, actually."
I closely studied his features and realized he was right. He went on to ask if I lived in the neighborhood, and I signed off by telling him I'd see him around soon.
He gave me the bro nod of approval. I nodded back and walked over to the ladies' locker room.
Step 5: Revel in your glory.
What are the conclusions I drew from my experiment? Well, while most of the men I talked to were airheads -- I'm assuming all their blood has no problem reaching their muscles, but couldn't make its way up to their brains -- I got them to talk to me, which was the ultimate goal.
I could have carried on the conversations and scheduled a date or two, but TBH, from what I gathered, I didn't really click on an intellectual level with any of them.
To sum up, it's best to take a page from Demi Lovato's book ("What's wrong with being confident?") and act like the baddest bitch in the whole damn place. Work out hard. Look approachable. Let your body lead the way. Let your eyes speak your intentions, and the rest will follow.
Oh, and don't forget to dig into your dresser drawer and throw on THAT pair of leggings -- y'know, the one that makes your ass look like Nicki Minaj's.
Then, hit up the gym and make #GAINZ, both in life and in love.