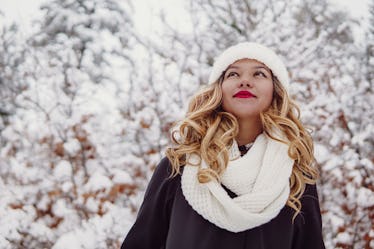 Here's How To Make The Time Fly By If Your Partner Is Far Away During The Holidays
For whatever reason, you and your boo won't be able to spend the holidays together this year — and well, you're bumming hard. Your visions of snuggling up together by the fireplace with spiked eggnog, or gleefully unwrapping presents together as snow falls softly outside the window have been totally shattered. Now that you've come to grips with the reality that you'll be apart for the holidays, you're wondering what to do when you miss someone far away. How will you survive?
It's oh so important to live in the present, so while you may be eager to skip over the time you'll be apart (it's fine to sleep the week away, right?), you'd be missing out on valuable time with family and friends. Fortunately, however, there are ways to get through the holidays in such a way that you won't be so painfully aware of your partner's absence. Of course, staying busy is always a solid strategy for helping time to pass more quickly, but you don't want to just keep yourself occupied with meaningless activities.
Eager to make the time fly while you're apart? Here are some phenomenal ways to cope with the distance this holiday season until you and bae are reunited again.