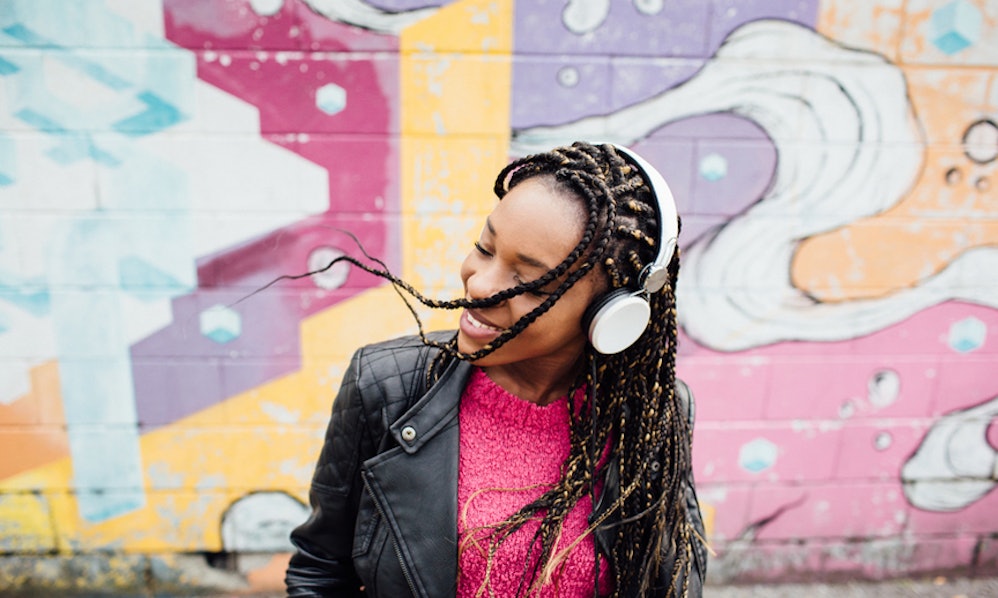 What To Choose As A "My Anthem" Song On Tinder To Show Off Your Sense Of Humor
Life is short. Your Tinder profile is probably even shorter. So why waste an opportunity to choose a funny "My Anthem" song on Tinder? Hook a Tinder match right off the bat by showing off your sparkling wit and pitch-perfect pop culture references. Let me explain.
For the uninitiated, Tinder added a feature last year called "My Anthem" that lets users add any Spotify song to their dating app profile. The widget is intended to show off your taste in music and act as a conversation starter, making it ultra easy to swipe left on someone who has a genuine love of Nickelback (yikes), swipe right on the Frank Ocean fan (yesssss), and strike up a conversation with your match about why you think Carly Rae Jepsen is so criminally under-appreciated (because she so seriously is!).
There are certainly benefits to setting your anthem to your current favorite song, whatever that may be. I mean, there's no point in choosing a really obscure rock song as your anthem if you don't know the words and you exclusively sing Britney Spears at karaoke (hello, it's me). Sure, that song might impress a suitor or two, but it's meaningless if the song doesn't mean anything to you.
But what if you used your anthem to showcase something else? Your sense of humor instead of your musical preferences? It might wind up being the most entertaining part of your profile.
I rounded up 36 hilarious "My Anthem" songs so you don't have to face a minute of cuffing season without at least a few options for cuffs. Just beware — you might get even more matches than usual.
Self-Deprecating Songs That Are Obviously Meant As A Joke
"Blank Space" by Taylor Swift
TaylorSwiftVEVO on YouTube
"All By Myself" by Celine Dion
Naty's Channel on YouTube
"Before He Cheats" by Carrie Underwood
carrieunderwoodVEVO on YouTube
"Creep" by Radiohead
georgios milonas on YouTube
"Crazy Ex-Girlfriend" by Miranda Lambert
Angela P on YouTube
"Gold Digger" by Kanye West
KanyeWestVEVO on YouTube
Alarmingly Sexual Songs That Are Only To Be Deployed When You're Seriously DTF
"Hot in Herre" by Nelly
NellyVEVO on YouTube
"Thong Song" by Sisqo
SisqoVEVO on YouTube
"Back Up" by DeJ Loaf feat. Big Sean
dejloafVEVO on YouTube
"Birthday Sex" by Jeremih
JeremihVEVO on YouTube
"Sex" by Ginuwine
Chocrilover on YouTube
"Body Party" by Ciara
CiaraVEVO on YouTube
"Lollipop" by Lil Wayne
LilWayneVEVO on YouTube
"PILLOWTALK" by Zayn
ZaynVEVO on YouTube
Sassy Songs To Prove You Don't Take Any Sh*t
"That Don't Impress Me Much" by Shania Twain
ShaniaTwainVEVO on YouTube
"B*tch Better Have My Money" by Rihanna
RihannaVEVO on YouTube
"It's Gonna Be Me" by *NSYNC
NSYNCVEVO on YouTube
"Oops, I Did It Again" by Britney Spears
BritneySpearsVEVO on YouTube
"Miss Independent" by Kelly Clarkson
kellyclarksonVEVO on YouTube
"No Scrubs" by TLC
TLCVEVO on YouTube
"***Flawless" by Beyoncé
beyonceVEVO on YouTube
"Boys" by Charli XCX
officialcharlixcx on YouTube
Songs That Would Sound Desperate In Any Other Context
"Why Don't You Love Me" by Beyoncé
beyonceVEVO on YouTube
"Pretty Fly (For A White Guy)" by The Offspring
OffspringVEVO on YouTube
Songs That Tell Your Match Exactly What To Do
"Un-Break My Heart" by Toni Braxton
ToniBraxtonVEVO on YouTube
"Call Me" by Blondie
Romina Valeria on YouTube
"I Want To Dance With Somebody" by Whitney Houston
whitneyhoustonVEVO on YouTube
"Let's Get It On" by Marvin Gaye
Boblet233 on YouTube
"Touch My Body" by Mariah Carey
MariahCareyVEVO on YouTube
"I'll Make Love To You" by Boyz II Men
BoyzIIMenVEVO on YouTube
"Single Ladies (Put A Ring On It)" by Beyoncé
beyonceVEVO on YouTube
Romantic Songs It's Probably Way Too Soon For, But Whatevs, You're Playing Them Anyway
"Your Body Is A Wonderland" by John Mayer
johnmayerVEVO on YouTube
"Boyfriend" by Justin Bieber
JustinBieberVEVO on YouTube
"I Will Always Love You" by Whitney Houston
whitneyhoustonVEVO on YouTube
"You're The One That I Want" from Grease
CaLLxm3xG0d on YouTube
"We Found Love" by Rihanna feat. Calvin Harris
RihannaVEVO on YouTube
And that is how you communicate your interest in...
Music
Jokes
Sex
And/or everlasting love
... all without saying a word.
Check out the entire Gen Why series and other videos on Facebook and the Bustle app across Apple TV, Roku, and Amazon Fire TV.
Elite Daily on YouTube
Check out the "Best of Elite Daily" stream in the Bustle App for more stories just like this!