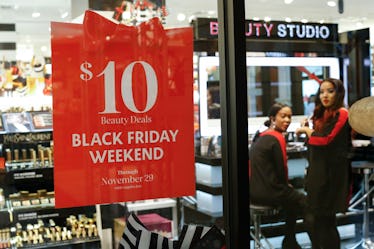 Dying To Know When Sephora Opens On Black Friday? Get Ready To Set Your Alarm
Kena Betancur/Getty Images News/Getty Images
Black Friday is like the Super Bowl of beauty. It's the end of the year, people save up for this very event, and then spend hours browsing the web for announcements about deals. Diehard makeup devotees are already typing what time does Sephora open on Black Friday into Google, and TBH, I'm one of them. Although Sephora is keeping the info super low-key, I did some digging, drew up some figures, consulted a few maps, and asked my psychic to bring you answers. Let the games begin!
Although we're only a few days out from Thanksgiving and Black Friday, Sephora has still yet to announce their Black Friday deals for 2017. Which compared to other brands is so like them, because they like to keep their deals on the DL. But if you downloaded the Sephora app on Friday, you already got a sneak peek of Sephora Black Friday sales. I think their marketing team is genius for this, even though I am dying to know about the discounts. Not only does it create hype around an event that's already reaching a fever pitch, but everyone's attention is probably on counting down the last hours until their Thanksgiving feast, anyways.
Delaying our gratification also provides shoppers with more time to peruse the site, interact with other Sephora beauty lovers, and most importantly, constantly refresh all social media platforms in hopes of a clue.
But since I'm impatient, I did some stalker-level sleuthing to discern what time the Sephora sale will start, and what they will be offering. In other words, I'm fully justifying my lack of patience when it comes to fashion and beauty, under the guise of helping the greater good.
In 2014, Sephora's Black Friday deals included the oh-so-popular $10 beauty deals. This meant that popular perfume, fragrances, eye shadows, and makeup that often retailed for up to $40 were on sale for as little as $10. The brand also had an exclusive $99 deal on the Clarisonic Mia 1 Skin Cleansing System in Electric Pink ($129; sephora.com). On top of that, customers received free deep-cleaning pore brush heads.
In 2015, Sephora double-dipped on the $10 deals again. But this year, they offered more exclusive offers on brands such as Marc Jacobs Fragrances, Boscia, Verb, and Chloe. Sephora Beauty Insiders were rewarded for entering the code "ESCAPE" at checkout, scoring their choice of one of the eight deluxe samples.
The 2016 Sephora Black Friday sale was pretty much par for the course. Instead of making customers wait until Black Friday, Sephora got a head start and launched their online sales the morning of Thanksgiving. So that means if you were too busy peeling potatoes, you missed out on some good deals. The brick-and-mortar stores opened shop on Thanksgiving Day at 6 p.m. and stayed open until 1 a.m. Then on Black Friday, all locations re-opened at 6 a.m. and stayed open until 9 p.m.
So what does that mean for this year?
If the Sephora Black Friday sale is anything like the previous years, which I believe it will be, we're going to see major discounts and find ourselves rationalizing purchases. I would plan to have internet access on Thanksgiving morning, and if you're really a fanatic, skip dessert and head to your local Sephora when the sun sets later that day.
If you already browsed around the app, you know Sephora's offering two limited-edition, exclusive palettes. The Kat Von D Metal Crush Extreme Highlighter Palette ($36; sephora.com) boasts three stunning highlighter shades: Gammaray, a prismatic peach with pink and gold crystals, Helix, an ethereal opal with gold and silver crystals, and Rose Shock, a pearlescent pink with lavender and pink crystals. I personally think Gammaray is going to look stunning on darker skin tones.
Never to be outdone, Too Faced is also launching a limited-edition White Chocolate Bar Eyeshadow Palette ($49, sephora.com), which features some stunning matte and shimmery shades that are perfect for the holiday party circuit and beyond. Also, they smell like white chocolate, so there's that.
If I had to classify Sephora's 2017 Black Friday sales, I'd dub them the year of huge discounts on palette and kits. And if you hadn't already marked your calendar for the Thanksgiving-day release of Fenty Beauty's Stunna Lip Paint, here's your last warning. It's going to be major.