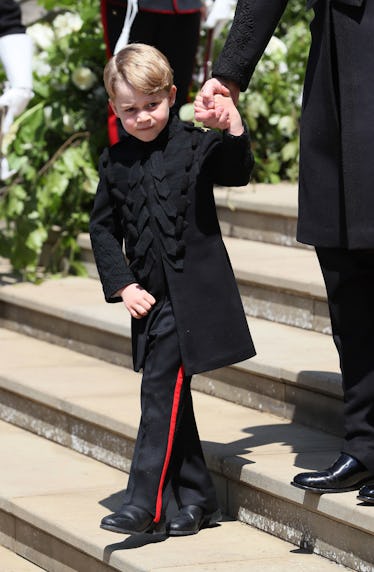 What Prince George Wore At The Royal Wedding Is So, So Adorable
WPA Pool/Getty Images Entertainment/Getty Images
The royal wedding is in full swing, and everyone from Oprah to Victoria and David Beckham have clearly outdone themselves fashion-wise. And even though I'm totally freaking out over how stunning Meghan Markle's dress is (I mean, just look at that freaking veil), I can't help but divert my attention to the little cuties holding the train of her gorgeous gown — especially Prince George. Seriously, who else is totally swooning over Prince George's royal wedding outfit right now? Royalty has never looked so freaking adorable.
To say the least, the anticipation about Prince George's royal wedding outfit has been almost unbearable. That little prince has some serious style for a 4-year-old, but then again, he's royalty, so of course he's always dressed to impress.
But back in February, when everyone was impatiently dreaming up outfit ideas that the royal family might wear for the big day, Stephanie Staub, designer and founder of Little Eglantine, told Brides what to expect in terms of royal toddler trendiness, "since Prince George is still at a tender age, I would suggest an ivory cotton Peter Pan collar shirt with long sleeves, with a gold cummerbund and a pair of ivory taffeta three quarter button shorts, which I also find very smart and will be a perfect match to the ivory of the dresses."
It appears Staub was a bit off in her royal expectations, but I don't blame her, because no one could've predicted this twist (AKA the no-show of Georgie's OG shorts).
Like, just look at what Prince George has worn in the past, like, in his regular, day-to-day existence as a casual, royal toddler. The little man's sense of style does not ever disappoint, so obviously he would look fly as hell for this historic occasion.
Shorts are kind of Prince George's thing, and although I'd say he should be a style icon for both toddler boys and men everywhere, I honestly don't think any member of the male species could ever pull off bold short-shorts the suave way that our fav little prince does. Sorry, dudes.
If Prince George's style hasn't been your ultimate source of outfit inspo from day one, I honestly am confused as to who you are looking up to as your fashion icon. Yes, ladies, I am now talking to you, as well. Prince George is seriously an inspiration to us all, and no one has expressed this better than Haley Nahman of Man Repeller, who honestly took the words right out of my mouth:
...Boy does Prince George know his way around some shorts. Did I feel creepy writing that? Yes. Did I plan to spend several hours discussing my conspiracy theories as to why the toddler Prince is addicted to shorts (such as long pants constrict him artistically) only to find out the answer via Google in two seconds? Absolutely.
Hey Haley, if you're reading this right now, and you too were anxiously awaiting Prince George's royal wedding outfit like I was, please give me a sign that it's totally fine to be abnormally emotional over how perfect he looks.
I mean, yeah, you could say I'm on the verge of tears over the no-show of Prince George's adorable shorts, but I will persevere.
Oh and FYI: If you are wondering why Prince George opts for shorts rather than "more proper" pants on the reg, etiquette expert and Daily Mail columnist, William Hanson, explained everything you need to know in an article for the British tabloid. He said "shorts on young boys are, in fact, a silent British class marker and trousers are deemed 'suburban,' which no self-respecting royal would want to be regarded as."
TBH, I think the fact that he's rockin' pants right now just shows that he runs the place and can do whatever his little heart desires. Keep doin' you, little man. Shorts or no shorts, you are truly the star of this royal wedding in my eyes (sorry, Meghan).