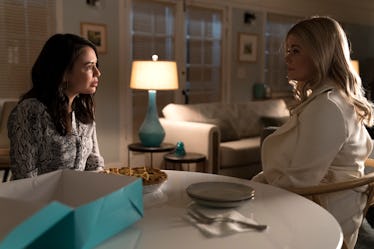 Here's What 'Pretty Little Liars' Fans Should Know About The Spinoff, 'The Perfectionists'
Freeform/Allyson Riggs
If you've been missing Pretty Little Liars since it went off the air in 2017, your prayers have just been answered: Freeform is making a new spin-off series called Pretty Little Liars: The Perfectionists, and it's about to blow your mind. What is The Perfectionists about, you may ask? The series will follow Alison (Sasha Pieterse) and Mona (Janel Parrish) — I know, quite a duo — as they leave Rosewood behind and settle down in a small town in Oregon. But this is the Pretty Little Liars universe, so obviously their new life in Beacon Heights isn't quite what it seems. Expect plenty of secrets, cover-ups, and drama, because the Pretty Little Liars spin-off is about to make "A" look tame.
The Perfectionists picks up two years after the Pretty Little Liars finale — you know, the one that left everyone so happy and stable? But clearly something has happened in the meantime, because Alison has ditched Rosewood and headed west to Beacon Heights, Oregon, where she's a new faculty member at the local university. In the trailer, Alison tells her driver that she "doesn't know a soul" (that seems to include her wife, Emily, who is mysteriously MIA), so she's beyond shocked when Mona suddenly appears in her doorway with a pie and a large knife. Mona and knives do not mix, so yeah, I would be pretty surprised too.
Like Rosewood, Beacon Heights has secrets that are lurking just below the surface. "Someone is about to snap... and kill," Alison's voice-over says in the trailer. Could it be one of Alison's well-dressed students? Besides Mona and Alison, six students will form the core of the "Perfectionists," and their secrets promise to be just as creepy as the original PLL mystery. Fans meet the Perfectionists, including Caitlin Martell-Lewis, a smart, motivated student with a dark side, and Dylan Wright, a master cellist stuck between his his boyfriend and his music, in the trailer, but don't let their good looks fool you: These students are harboring secrets that could take down the entire town. Sound familiar?
The similarities between The Perfectionists and Pretty Little Liars seem pretty clear, but Pieterse insists that the spin-off will have a different vibe than its predecessor. She told Entertainment Tonight:
It's definitely darker than how our first season of PLL was. I feel like it picks up from PLL kind of seamlessly, there's a two-year gap, yeah, and it just.. it will be darker, let me put it that way.
Ooh, darker? PLL got seriously twisted at times, so it's hard to imagine how Freeform could one-up the original series, but I'm so excited to watch them try.
The actress also teased what fans can expect from Mona and Alison's friendship, which may strike viewers as odd considering that the two were never that close back in Rosewood:
When I read the draft that we were going to film, I cracked up in so many spots because of the way that they tie in their two characters. They kind of become allies in a way and it's this very interesting kind of dynamic, 'cause Alison's obviously not sure if she can trust Mona. I mean, can you ever trust Mona? But the way that she ends up being in this new town is very mysterious, but also hilarious, the way that she kind of rides over these questions.
Clearly, the change in location hasn't made Mona any less shady. Mysteriously showing up in a new town thousands of miles away and skirting around an explanation? Yup, sounds like Mona to me.
The Perfectionists doesn't have a set premiere date yet, but Freeform has announced that the series will air sometime in 2019. Hopefully that means January 2019, because I need this Pretty Little Liars spin-off in my life ASAP.