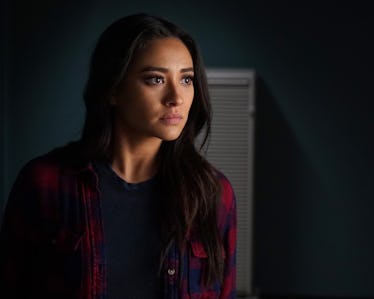 'Pretty Little Liars' Fans Are Asking This Major Question About 'The Perfectionists'
Freeform/Eric McCandless
It's been just under a year since Pretty Little Liars officially ended, and I'm already having withdrawals. There's just nothing on TV quite like the dark, creepy-yet-soapy teen drama. Luckily, Freeform just released the first trailer for a new spin-off starring Alison and Mona called Pretty Little Liars: The Perfectionists, and it looks like it will totally cure my post-PLL blues. But first, a super important question: Will Emily be on The Perfectionists? There's no sign of Emily in the new trailer, but she and Alison are married with twins, so fingers crossed that the Pretty Little Liars star will at least make an appearance in the new series.
In an unusual twist, The Perfectionists takes Alison (Sasha Pieterse) and Mona (Janel Parrish) out of Rosewood to Beacon Heights, Oregon. After everything that went down in Pretty Little Liars, can you blame the two for wanting a change of location? But like Rosewood, Beacon Heights has its own sinister secrets, and it's not long before Mona and Alison find themselves at the center of another huge, and potentially deadly, mystery. Alison moved to Beacon Heights to join the faculty at the local university, and Mona just kind of shows up there, so is it possible that Mona could be involved in Beacon Heights' creepy goings-on? If there's anything I learned after seven seasons of Pretty Little Liars, it's that Mona is always up to something shady.
So, what about Emily? At the beginning of the trailer, Alison tells her driver that she "doesn't know a soul" in Oregon, and it seems like that includes her family. As the trailer progresses, it seems more and more likely that Alison has traveled to Beacon Heights without her wife and twins. And maybe that's a good thing, because whatever is going on in this new town seems downright awful.
Pieterse told Entertainment Tonight that the show "picks up from PLL kind of seamlessly," after "a two-year gap," so I have to wonder what happened to Emily during that time. At the end of Pretty Little Liars, Alison and Emily get engaged, and they both seem super satisfied to be working at Rosewood High and living a quiet life with their daughters. Is it possible that something went wrong in their relationship? I have a hard time believing that Alison would just pick up and leave Rosewood without an good explanation, so hopefully The Perfectionists will address this ASAP.
When asked if Emily and the other core PLL cast members would appear in The Perfectionists, Pieterse didn't give a straight answer:
I cannot say that… it's not a no, but it's not a yes.
OK, so it definitely seems possible that Emily will make an appearance. Emison 4eva. Shay Mitchell, who plays Emily, also didn't rule out reprising the role on The Perfectionists, but she didn't confirm it, either:
It's just difficult with all of our schedules right now. At the end of the day, regardless of whether I'm on it or not, I will 100-percent support the show and be a fan of it myself. But we're all just doing so many different things right now, so it's hard to commit to something like that.
If scheduling issues keep Emily and Alison apart, I'm going to be so mad. Can't we work something out, Freeform?
Even though viewers may or may not see Emily, Pieterse insists that fans of Pretty Little Liars will love the new crew of characters introduced in The Perfectionists. Alison's young students will make a splash on campus, but each has secrets of his or her own that are dangerously close to spilling out. Said Pieterse:
You meet these wonderful, well-rounded characters and I think the fans will definitely, if they get the chance, fall in love with these new people and their struggles and their lifestyle and I think you can relate to it.
A new group of beautiful, secretive, complicated students? Sign me up for that.
Pretty Little Liars: The Perfectionists premieres on Freeform in 2019.