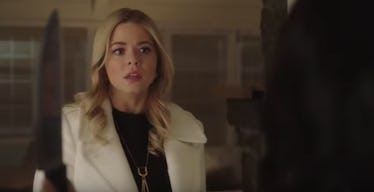 'The Perfectionists' Trailer Is Finally Here & 'Pretty Little Liars' Fans Are Losing It
Freeform
Pretty Little Liars may have ended in the summer of 2017, but lucky for fans, it hasn't been completely laid to rest. Freeform is reviving a few of its characters through an upcoming spinoff series which was already picked up for 10 episodes by the network. And now The Perfectionists trailer is here, reuniting audiences with Alison DiLaurentis (Sasha Pieterse) and Mona Vanderwaal (Janel Parrish) for more murder mystery adventures. They're not in Rosewood anymore... but that doesn't mean the secrets, lies, and cover-ups are no longer.
The trailer shows Alison as she heads to the seemingly perfect town (aren't they all?) of Beacon Heights, Oregon. She's a new faculty member at the local university, but poor thing "doesn't know a soul." Enter a creepy surprise appearance from Mona — and she's got a knife and a pie! Though something tells us things aren't as sweet as they appear because "someone is about to snap… and kill!" Yes, there's a new whodunit on the horizon and it looks like the gals are embroiled right in the sinister drama. This esteemed college and its resident "Perfectionists" have more going on than meets the eye. Mona and Alison couldn't move to a chill, crime-free town where nothing was going on? Of course not!
The Perfectionists is based on Pretty Little Liars' author Sara Shepard's book of the same name and was initially intended to exist outside the PLL universe through a separate show that began to develop back in 2014. But Mona and Alison ended up making the jump to Beacon Heights and they'll be joined by a new set of curious characters whose closets are sure to be chock full of covetable wardrobes... and skeletons. The trailer offers up a glimpse at the some of these intriguing newbies as they strut their stuff on campus.
Descendants alum Sofia Carson stars as one of the "Perfectionists" — Ava Jalali — a "trendsetting blogger and coder who strives to be a fashion icon." Sydney Park portrays Caitlin Martell-Lewis. Her character has been described as "the daughter of two over-achieving mothers, one of whom is a United States senator, Caitlin is an expert at hiding secrets. She hopes to follow in her mother's political footsteps — that is, if the weight of her own secrets doesn't crush her first." Eek! Eli Brown plays Dylan Wright, "a prodigious cellist who used his passion for music to escape his small-minded hometown, Dylan loves his music almost as much as he loves his boyfriend, Andrew. (And even that's up for debate.)"
PLL fans can take comfort in Pieterse's Freeform promo promise that the show has "got that familiar vibe" and "is beyond spooky." She sat down with ET to tease what's in store when it comes to Mona and Alison's unlikely alliance:
When I read the draft that we were going to film, I cracked up in so many spots because of the way that they tie in their two characters. They kind of become allies in a way and it's this very interesting kind of dynamic, 'cause Alison's obviously not sure if she can trust Mona. I mean, can you ever trust Mona? The way that she ends up being in this new town is very mysterious, but also hilarious, the way that she kind of rides over these questions.
She also added how the series and its tone will tie into Pretty Little Liars, explaining, "It's definitely darker than how our first season of PLL was. I feel like it picks up from PLL kind of seamlessly. There's a two-year gap, yeah, around. And it just.. it will be darker, let me put it that way."
Pretty Little Liars: The Perfectionists will premiere on Freeform in 2019.