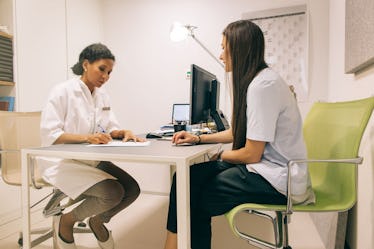 Here's How To Know If You Have Syphilis, So You Can Treat It ASAP
Sex can and should be a fun, consensual experience for everyone involved. Owning your sexuality and not letting anyone tell you who you can and can't have sex with is empowering! But sexually transmitted diseases, which may come about if proper precautions aren't taken before doing the deed, are not fun. You've probably heard about the more common STDs like chlamydia, gonorrhea, and herpes, but one STD that should not be overlooked is syphilis. So, what is syphilis? I spoke to four doctors about syphilis — what it is, how you know you have it, how you can treat it, and how you can avoid it.
"Syphilis is a sexually transmitted infection that is typically acquired through sexual contact," Dr. Joy Brotherton, Associate Professor of Obstetrics and Gynecology at UCLA, tells Elite Daily. It also happens to be one of the STDs that can be transmitted from a pregnant woman to a baby, if left untreated during pregnancy (known as cogenital syphilis, according to the Centers for Disease Control and Prevention). "For this reason, syphilis screening is a routine part of basic prenatal care for all pregnant women," Dr. Brotherton says.
Syphilis can sometimes get better without treatment, but will continue to come back on much more severe levels. "You can develop secondary syphilis, and it too will get better, even without treatment," Dr. Mary Jane Minkin, OB/GYN at Yale-New Haven Hospital and clinical professor at Yale University School of Medicine, tells Elite Daily. "Then, you can get tertiary syphilis, which can show up in myriad presentations. The most lethal is for people to get an aneurysm of the aorta and folks can rupture their aortas." In other words, the consequences could be really severe if you leave your syphilis untreated for too long. So, here's how to know if you have it, how to treat it, and what to do next.