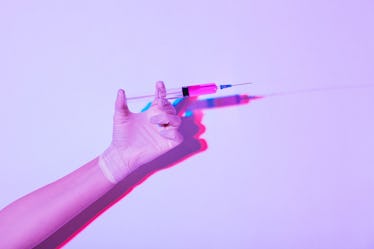 FYI, Your STD Test Probably Doesn't Include Herpes & Here's Why
If you've ever hooked up with anyone — even if you didn't go all the way or if you used a condom — you need to get tested for STDs at least once a year. Period. That's according to the Centers for Disease Control and Prevention's (CDC) guidelines, and it just makes good sense. Of course, if you ever notice a rash or bump on your genitals, or experience any uncomfortable symptoms — pain, itching, odor, unusual discharge, etc., you should get tested right away. But here's the thing: do STD tests check for herpes? Not necessarily. And your doctor won't necessarily test you for any STDs without asking you first, so if you'd like a test, speak up.
I spoke to an expert on the subject, Dr. H. Hunter Handsfield, Professor Emeritus of Medicine at the University of Washington Center for AIDS and STD. He told me that most routine STD testing does not include tests for herpes simplex virus (HSV). This might seem shocking, and it is a controversial topic even among doctors. Those who advocate against testing for HSV do have reasons behind their decision. Before delving into those, though, it's important to understand the basics of herpes. For starters, there are actually two different strains of the herpes virus: HSV-1 and HSV-2. Before administering a test, your doctor might consider if you have any symptoms of either strain.