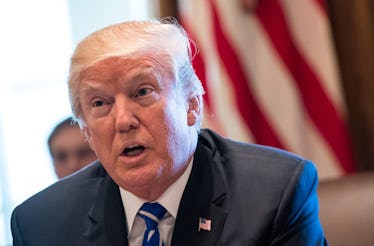 Trump Names North Korea A Terrorism Sponsor, So This Feud Isn't Over
Pool/Getty Images News/Getty Images
Following what can be considered a relative "quiet period" from Kim Jong-un's regime, President Donald Trump designated North Korea a state sponsor of terrorism. The announcement was made on Nov. 20, just ahead of the Thanksgiving holiday. But what does state sponsored terrorism mean exactly? And what does it signal for the future of the United States' diplomatic relationship with North Korea?
President Trump made the announcement to reporters on Monday during a cabinet meeting at the White House, according to The New York Times. Trump added that the designation, which officially declares that North Korea's government supports international terrorism, "should have happened years ago." Trump explained that the designation will "impose further sanctions and penalties on North Korea," and will support the administration's "maximum pressure campaign" against the North Korean regime. The president also revealed that the Treasury Department will be announcing additional sanctions on Nov. 21 — the "highest level of sanctions" that the U.S. has imposed on the North Korean government.
Secretary of State Rex Tillerson added in a press conference that the move to designate North Korea as a state sponsor of terror is the next step in what he calls the "peaceful pressure campaign" (which is apparently the same as Trump's "maximum pressure campaign"). Trump and Tillerson hope that the move will "disrupt and dissuade some third parties from undertaking certain activities with North Korea."
So what exactly does it mean to be designated a state sponsor of terrorism?
According to the State Department, it means that the government of a nation has "repeatedly provided support for acts of international terrorism." The department has kept a list of these nations since 1979, and imposes a series of sanctions on the nations listed in an effort to cut off their economic abilities to operate under their current regimes.
North Korea was first added to the list in 1988, after the bombing of Korean Air Flight 858 in 1987. The flight was scheduled to fly between Baghdad and Seoul, but was blown up over the Andaman Sea in an attack that was linked to North Korean officials.
President George W. Bush removed North Korea from the list in 2008, in an effort to negotiate with Pyongyang in a more diplomatic manner and hopefully inspire the denuclearization of the region. However, as Tillerson said in his briefing, the Trump administration feels that the decision to remove North Korea hasn't helped progress diplomatic negotiations. And so they've decided to once again add the nation to the list and ramp up sanctions once again.
In the months since Trump has taken office, the aggressive rhetoric between his administration and Pyongyang has become vitriolic.
Trump began his outbursts against North Korea following an alleged missile test launch back on July 3. Trump's verbal attacks on Pyongyang became more commonplace following reports on Aug. 8 that confirmed North Korean leader Kim Jong-un and his regime have successfully produced missile-ready nuclear weapons. That same day, Trump said that any future threats from the nation would be met with "fire and the fury like the world has never seen," to which North Korea responded by threatening the U.S. territory of Guam. On Aug. 11 Trump tweeted that, "military solutions are now fully in place, locked and loaded, should North Korea act unwisely."
Then, on Sept. 19, Trump delivered a controversial speech to the United Nations, which made everyone nervous about how far the conflict with North Korea could go. In the speech Trump stated, "we will have no choice but to totally destroy North Korea." Trump also called Kim"Rocket Man," which of course refers to the dictator's affinity for nuclear weapons. And the nickname definitely didn't go over well with Kim by any means.
Following the speech, North Korea threatened to test nuclear missiles in the Pacific — ones that could potentially reach U.S. soil. Trump later posted a tweet on Sept. 25 where he stated that North Korean officials "won't be around much longer," which North Korean Foreign Minister Ri Yong-ho considered to be a declaration of war.
Since then things have been relatively quiet between Trump and Kim.
We haven't seen a test launch out of North Korea in 60 days, and Trump managed to keep hostility between the White House and Pyongyang to a relative minimum while on his 12-day trip to Asia in early November. But as Tillerson said, this move will surely be noticed by North Korea and any other nation that's associated with Pyongyang.
So the move to officially designate the nation a state sponsor of terrorism could inspire Kim to move forward with nuclear testing. What happens now depends largely how Trump conducts himself in the media and via Twitter. What's become abundantly clear is that the dictator has a short fuse, and is likely to lash out when threatened or insulted directly — much like someone else we know.
So while this designation isn't exactly a direct threat on North Korea, it could inspire more aggressive threats in the future.