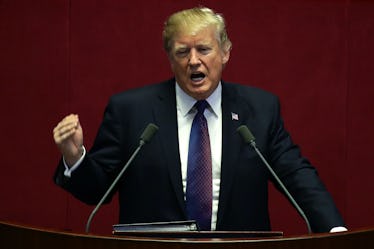 Trump Was Actually Acting Rational About North Korea Until He Said This One Thing
Chung Sung-Jun/Getty Images News/Getty Images
During a speech before South Korea's National Assembly, Donald Trump talked about North Korea in a way that differed from his past comments about the U.S. adversary. The president was relatively measured, trading in catchphrases like "little rocket man" (which he has used to refer to North Korean leader Kim Jong-un) for more diplomatic terms to describe the U.S.' position: "I want peace through strength." Then came Trump's warning to North Korea, in his more usual blunt fashion: "Don't try us."
The president said,
The regime has interpreted America's past restraint as weakness. This would be a fatal miscalculation. This is a very different administration than the United States has had in the past.
Today, I hope I speak not only for our countries, but for all civilized nations, when I say to the North: Do not underestimate us, and do not try us. We will defend our common security, our shared prosperity, and our sacred liberty.
Trump's speech before the National Assembly (the South Korean chamber that is akin to the U.S. Congress) came during the third day of his trip to Asia. Before visiting Seoul, the president stopped in Japan to meet with Prime Minister Shinzo Abe. After leaving the South Korean capital, Trump traveled to China on Wednesday, Nov. 8, to meet with President Xi Jinping.
Video of Trump's stern warning to North Korea the night before can be viewed in clip of the president's speech below:
During the speech, the president also hit North Korea hard on the image of its nation, calling the territory a "hell" that is not the "paradise" professed by Kim Il-sung.
Kim Il-sung is Kim Jong-un's grandfather and the man to which the North Korean's constitution refers to as its "eternal president." Trump said,
I also have come here to this peninsula to deliver a message directly to the leader of the North Korean dictatorship: The weapons you are acquiring are not making you safer. They are putting your regime in grave danger. Every step you take down this dark path increases the peril you face.
North Korea is not the paradise your grandfather envisioned. It is a hell that no person deserves.
Despite Trump reverting to a more direct style during the portion of his speech where he gave that warning to the North Koreans, the president's address was noted by many journalists and outlets for having an overall shift in tone.
The reaction to Trump's speech as "softer" than expected is seemingly down to the numerous indications within the address that hint at a willingness to negotiate with North Korea — regardless of whether the country would actually negotiate on the terms Trump laid out — as opposed to the relatively hardline stances that the president has made in the past.
Immediately after referring to North Korea as a "hell," Trump said,
Yet, despite every crime you have committed against God and man, you are ready to offer, and we will do that — we will offer a path to a much better future. It begins with an end to the aggression of your regime, a stop to your development of ballistic missiles, and complete, verifiable, and total denuclearization.
President Trump worked on his South Korea speech for "weeks," according to CNN, with input for Secretary of State Rex Tillerson and National Security Advisor H.R. McMaster.
Those weeks of preparation resulted in what transpired on Tuesday night, a more diplomatic and measured speech paired with hints at a willingness to compromise, if even slightly.
And then there was the very Trump-like warning highlighted within it all: "Do not try us."