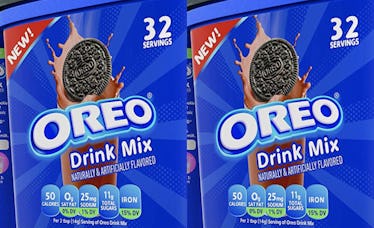 This Oreo Drink Mix Will Pair Perfectly With All The Holiday Cookies This Season
There's nothing quite like submerging an entire Oreo cookie in a glass of milk (or milk alternative if you're lactose intolerant like me), but what if you could dunk an Oreo in... Oreo milk? You've probably seen the new Oreo Drink Mix available at some grocery stores and on Amazon, but you might still be wondering: what is Oreo drink mix? Well once you discover more about his chocolaty sip, you'll probably want to get your hands on it as soon as possible.
According to Amazon's description of the stuff, Oreo Drink Mix is an Oreo powder much like Ovaltine that can be mixed in with your milk to create a sweet, flavored drink experience. The product description on Amazon boasts Oreo cookie crumbles in the mix. Meant to recreate the glorious snack that is dipping Oreos into a a glass of milk, the mix features "real pieces of rich, chocolate Oreo cookie." Um, yum!
I don't know about about you, but I could use a glass of Oreo Drink Mix to go with all of the holiday cookies I plan on eating from now until the calendar is flipped to January. Of course, Oreos are top cookie favorite, but you can dip your other faves like chocolate chip and festive sugar cookies into the Oreo Drink Mix and get the best of both worlds.
Thanks to the a32 servings per container of the mix, Oreo fans can enjoy this sip all season long. Need more Oreo-flavored drink goodness? You can choose from the classic flavor, a hot chocolate version called the Oreo Hot Cocoa Mix, and the Mint Hot Chocolate, which probably tastes like a delicious hot cup of melted thin mints.
According to Popsugar, this powdery treat debuted in August 2018 and is available in grocery stores like Food Lion, Hy-Vee, Southeastern Grocers, Albertsons, and Woodman's Markets in addition to Amazon, and it can be all yours this holiday season whether you wanna warm up as a hot beverage to go with your holiday cookies or gift it to an Oreo fan in your life.
Oreo has been up to quite a lot in 2018 in terms of fun, exciting new products. Around Halloween the company released Oreo Fun Size Chocolate Candy Bars so trick-or-treaters could get all the magic of Oreo cookies without worrying about them getting crushed in their bags. In August, Oreo introduced two new flavors — Hot Chicken Wing and Wasabi — to the Chinese market, leaving adventurous Oreo-loving Americans envious. Peppermint Bark Oreos are also available for the holiday season, and I think they'd make a delicious addition to your Oreo Drink Mix sessions.
If you're planning on gifting Oreo Drink Mix to a cookie lover in your life, don't forget to add yet another genius Oreo invention — the Oreo Music Box. The Oreo Music Box turns any Oreo cookie into a literal record and plays Oreo songs for everyone to enjoy. The Oreo Music Box trio on Amazon includes White Fudge Oreos, Regular Oreos, and Oreo Thins and may be one of the most unique and fun presents this holiday season.
So if you're looking to sweeten up your December, grab an Oreo Drink Mix of your choice or an Oreo-themed holiday gift (or both!), and settle in for the tastiest holiday season yet.