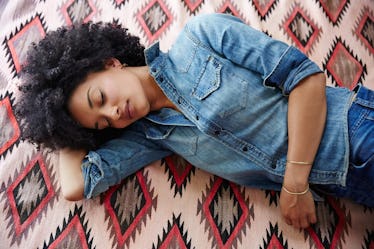 A "Napping Club" Is Officially A Thing In New York City & It Sounds Like Pure Heaven
Not one for partying or drinking at clubs until the wee hours of the morning? Well, then you might be interested in the hottest new club on the block called Nap York, a napping club in New York City. Yeah, that's right: a napping club, open 24 hours a day, in the city that never sleeps.
What is a napping club, you may ask? Business Insider reports that Nap York, located in midtown Manhattan, is a space with seven private nap pods available for rent at $10 per 30 minutes of rest time, inviting you to come inside and take a quick snooze at any time of day, be it during your lunch break, or even before you head out for that dinner date you have planned later in the evening.
But according to Nap York's website, the service's mission is about so much more than giving you an excuse to sneak away from work for a quick siesta:
Our mission at Nap York is to provide an oasis for New Yorkers to focus on cultivating wellness in body and mind; a quiet place to concentrate deliberately on yourself.
Nap York's director of marketing, Stacy Veloric, tells Elite Daily the service was designed to address the unique needs of busy New Yorkers, who are "some of the busiest people who are always on the go," she explains.
Nap York was created to provide New Yorkers with a tranquil and calming space where they can relax and unwind for a bit whenever they need to, Veloric says.
"It's important to nap because it gives you a chance to recharge," she tells Elite Daily. "Taking just a quick 30-minute nap makes you more alert and more focused."
Veloric notes there's a bit of a stigma in our society that seems to imply, if you take a nap during the day, it means you're lazy.
However, according to Veloric, it's the exact opposite: naps actually make you more productive, she says.
"We've all had that day at work where you had a late night, and you're exhausted, and you just sit in front of your computer," she tells Elite Daily. "If you were able recharge your batteries, you could do more."
A service like Nap York might seem like a slightly counterintuitive move for a city so hell-bent on constant movement, and a work-work-work mentality, but Veloric really does make a great point: When it comes to finding ways to reset and refresh your mind in the middle of the day, naps really can be just what the doctor ordered. The results of a 2009 study published in the Journal of Sleep Research showed that naps can improve work performance, focus, reaction time, and even your mood. Another study, which was published in the journal Behavioural Brain Research, suggests that naps may even surpass caffeine as a boost for alertness and mental agility.
While Nap York is a pretty unique endeavor, naps have been incorporated in some work environments, like Google and Uber, for example, for a few years now. And nap clubs have even been a growing trend in some high schools, too, according to The Cut, ever since research showed how sleep-deprived many teenagers are while trying to get through the school day.
As for the success of Nap York, Business Insider reports that 1,000 people have come in for naps since the service launched in February 2018 (a number that's growing daily, Veloric points out). And while most nappers coming in are neighborhood employees, delayed commuters also come in for a rest before the long trek back home.
Oh, and in case you're a bit of a germaphobe, don't worry — the nap pods at Nap York are totally sanitary.
The nap center uses washable, bed bug-resistant mattresses, and according to Business Insider, the staff makes sure to change all the bed linens after every use, so there's no need to be skeeved out by the thought of sleeping in the wake of so many other city-dwellers.
Travel + Leisure also reports that Nap York has a space for meditation and yoga, as well as a healthy cafe where you can order delivery right to your cozy little nap pod. Uh, yes please.
"I think people are really starting to realize that self-care is important," Veloric tells Elite Daily. "People are understanding it's important to focus on yourself and the things that benefit you, and that it's OK to take a break from work and do something to benefit yourself."
Couldn't have said it better myself.