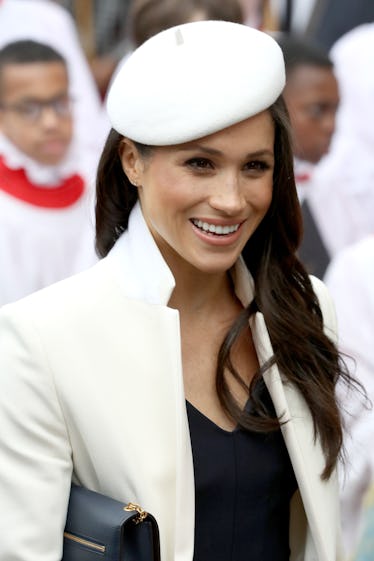 I Just Learned Meghan Markle's Real Name & My Mind Is Blown
Chris Jackson/Getty Images Entertainment/Getty Images
Hello, hi. How do you do? I'm sure you're well, but I'm about to rock your world in a minute. I know that you're well-aware of the fact that Prince Harry is set to marry actress Meghan Markle in just a few short months. Old news, right? But what if I told you he's actually not marrying someone named Meghan? No, this isn't The Matrix, but it's true: Markle's first name is actually NOT Meghan. So, what is Meghan Markle's real name, you ask? You've come to the right place.
Allow me to walk you through this mind-blowing information. On March 14, Queen Elizabeth gave the royal couple her consent to marry, which is important since any line to the thrown has to obtain formal permission from the Queen, under the Succession to the Crown Act.
And no, Prince Harry couldn't just walk up to his grandmother and ask her politely. Formalities, amirite?
But the letter from the Queen gives permission to her "dearly beloved grandson Prince Henry Charles Albert David of Wales" (aka Harry) and Rachel Meghan Markle. RACHEL. MEGHAN. MARKLE.
The letter states,
My Lords, I declare My Consent to a Contract of Matrimony between My Most Dearly Beloved Grandson Prince Henry Charles Albert David of Wales and Rachel Meghan Markle, which Consent I am causing to be signified under the Great Seal and to be entered in the Books of the Privy Council.
YUP. It turns out that Meghan is actually Markle's middle name, and her first name is Rachel.
Why is everything in this life a lie?
I'm going to blow your mind once more: Rachel Zane is the character that Meghan Markle plays on Suits, meaning when she was acting out her character, she was actually going by her given first name.
Damn right, that's amazing.
But there's something more amazing than finding out that Meghan Markle's real name is Rachel, and that thing is her love with Prince Harry. (I know, I sort of vomited writing that sentence, but it's true!)
The royal couple announced their engagement back in November of 2017, and, when doing an interview with BBC after the proposal, the world saw just how adorably in love Meghan (Rachel) and Prince Harry were.
"Just a cozy night, it was, what were we doing, just roasting chicken," Markle said. "It was an amazing surprise. It was so sweet and natural. Very romantic. He got on one knee."
Oh God. Chicken. Diamonds? Count me in.
Prince Harry chimed in, saying, "I had the ring in my hand and I was like, 'Can I give you the ring now? And she said, 'Oh yes, the ring!'"
HOW ARE THEY SO PURE.
And, because Meghan Markle is a badass rule-breaker, it seems that she'll be throwing some traditions to the wind on their wedding day, like possibly having a maid of honor in her wedding party and having her mother walk her down the aisle instead of her father.
Honey, rules are meant to be broken.
A source also told US Weekly that the royal couple's wedding is going to be less conventional than a traditional royal wedding, focusing more on "friends and family," and having guests in quality, not quantity. The source said,
The day of the wedding itself will certainly hold a few unconventional surprises. Don't expect a royal wedding by numbers. They want to involve their friends and family as much in as much as possible throughout the day.
A Palace source also told Us Weekly that Prince Harry is basically a royal rebel. "Harry has never been one to follow instructions and both he and Meghan are extremely independent individuals," the source shared. "I wouldn't imagine for one second that they plan to sit back and be told what to do — and they won't."
Could Prince Harry and Rachel-Meghan get any cooler? I think the fact that Meghan has been living under an alias this whole time signifies that nope, they cannot, and I love 'em for it.